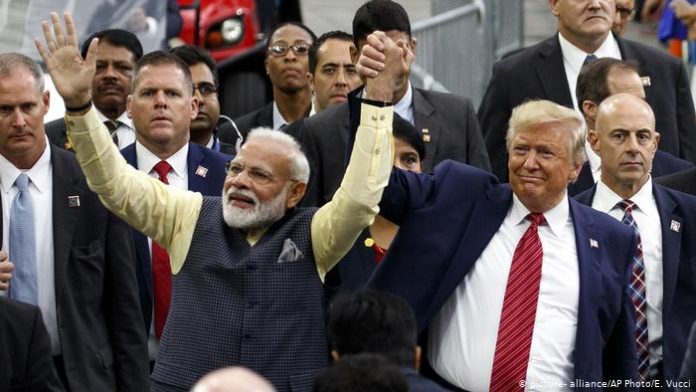 While defense and security cooperation have progressed well and there is still great scope for improvement, trade issues in other areas are still knotty. While there won't be a trade deal during Trump's visit, the two partners still have some way to go before they sort out differences.
By Amb Anil Trigunayat
"Namaste Trump ji" is going to be the reverberation through media and speeches in the two days as President Donald Trump arrives for his 36 hour long maiden visit to India from February 24-25. Apart from the bilateral meetings with Prime Minister Modi whom he happens to like a lot and the ceremonial banquets and lunches Trump and Melania Trump will enjoy the Indian boisterous hospitality in Kemcho style at the freshly built Sardar Patel stadium in Ahmedabad where huge crowds are expecting to provide a very colourful welcome to him.
Taj Mahal " the only monument dedicated to love' will get a face lift too waiting for the Trump family for a romantic rendezvous that not only includes the first lady but also his daughter Ivanka and son in law Jared Kushner. Trump has already quoted PM Modi that seven million Indians will be lined up to greet him. We have no dearth of population so lining up that should not be a gigantic task as is often evident during Indian political rallies. But for western politicians it is a big deal as in their own countries mustering even 5000 people that are ready to listen to them, could be a wishful thinking and a bigger challenge. In Haryana, a village has in fact rechristened itself as 'Trump Village' hoping to be noticed and get some bounty at least during this visit for their 12000 habitants living in difficult circumstances. They might not be that lucky this time.
Some critics observe that 100 odd crores being spent on beautification on raising walls to hide poverty could have permanently beautified the slums and provided succour to the hapless inhabitants there. Anyways Trump likes walls and he gets one with nice graffiti here. But then spectacle is a spectacle and grander it is the guy is likely to be pleased even more. PM Modi in his signature style will most likely receive President Trump and first lady on arrival.
Trump has already seen the power of the Indian diaspora in his own country especially during "Howdy Modi' where he paced along with India PM Modi striding across the stadium in Texas – a direct benefit rally in perception and reality. Indian origin community, of about four million in the US, is highly influential and successful Gujaratis make bulk of them. Hence in India this could be a memory Trump would not be able to erase for long especially if one has a narcissistic streak well displayed rather often. Moreover, it will come handy during his election rallies where he can genuinely boast of attracting huge approving crowds abroad too. Earlier in the week Trump has already claimed that in terms of Social media followers he is number one and PM Modi being number two even if it may statistically be the other way round. But we believe in "Atithi Devo Bhav" hence more hearty welcome to you Mr Trump. No doubt its lots of optics but there is much more than this and lets remind ourselves no relationship is perfect India-US relationship has a fundamental challenge of reconciling Trump's "America First" to Modi's " India first" and which will provide the contextual clarity on the way forward in this strategically important deepening partnership.
Trump is a deal maker and therefore starting with a maximalist position he arrives at a negotiating point that serves his constituents well. Trade war and perceived discrimination of US interests by countries and international organisations led him to launch direct assault on such targets. China, EU, Mexico, Canada, Russia, Iran, India, WTO, UN are some, who attracted his diplomatic ire. They had no choice but to yield obeisance or confront the US. Either way unilateral sanctions regimes have heightened trade tensions even more.
India has its own list of woes. Trump considers India a developed country and hence would like to deny GSP benefits amounting to around US$5.6 billion, and preferential, special and differentiated market access including in the WTO. He accuses India of hurting US interests terming it as "King of tariffs". Both countries have invoked a regime of reciprocal higher tariffs imposition. India was forced to retaliate to US excesses in this domain. Harleys are loved across the world but Trump does not like the idea of high duties on them in India even though its lesser horse power versions are part assembled in India to beat the duties.
It appears that Chairman Munjal of Hero Honda fame has shown interest in salvaging the situation through proposed collaboration while the government is succumbing to reduce the duties on Trump's favourite bike. So is the case with berries, almonds, walnuts and dairy products let alone the heartaches through stent and medical devises , e-commerce, data localisation and new age technologies. India, whose trade with US has increased to US$ 142 billion including 16% of Indian exports of goods and almost 50% of its IT and BPO services, faces huge challenges in penal tariffs on many products directly and through sanctions on Iran and Russia indirectly. Since services especially in the software are an important component for India, movement of persons and professionals is an essential prerequisite. Hence new conditions and criteria on H1B and other visa categories has a direct adverse impact on Indian services exports.
US also wishes to be major partner in India's energy security. A new Trade Agreement is a must but the crevices and mistrust is very high and the negotiations laborious and complicated. Hence despite best efforts even a mini deal is unlikely. Trump himself has proclaimed that bigger and very important deal (trade) is in the offing perhaps after his re-election. As such Trump will be talking to the leaders of Indian industry and might offer some respite and insight while inviting them to invest in USA.
A key area of strategic cooperation is in the deepening of defence and security engagement. The two countries have been conducting military exercises in recent past more than with their NATO partners. Several important agreements ensuring greater confidence and interoperability have been signed including Communication Capability and Security Agreement (COMCASA) and LEMOA as well as the 2+2 dialogue. India figures prominently in US's South Asia strategy underscored by the context of growing Indo-Pacific engagement. US has emerged as a major supplier of defence equipment and advance technologies to India. Over $ 17 bn worth of equipment has come India's way. It treats India like a NATO country for smoother supply of weapon systems.
Even during this visit several billion dollar deals are likely to be signed for supply of helicopters and an integrated air defence weapon system among others. US continues to eye India as a major market even though competitive and difficult to enter and hence uses all tricks "Sam, Dam, Dand, Bhed" that has become the signature style of Trump who considers himself as the best negotiator. But the Modi-Trump bonhomie could perhaps blunt some of the sharp edges during this visit.
In the one on one and delegation level talks the agenda items will have to include Pakistan, Iran and the Middle East and Trump's Peace Plan for the Israeli-Palestine conflict and the role of China and Russia in the new global order. Since Kushner is there he will explain the rationale behind the Deal of century which India has urged the two sides to not reject forthwith. Moreover, discussions on the Indo-Pacific may be little more accentuated. Art 370 and CAA and religious freedoms howsoever domestic they might be are unlikely to be omitted from discussions since Trump would be under pressure from his domestic human rights constituency to raise these. Similarly, he might urge India to start some kind of a dialogue with Imran Khan knowing too well the Indian position that "Talks and Terror " cannot go hand in hand . It is also a fact that Trump has chastised Pakistan in the context of terrorism throughout and has supported India strongly. US also welcomes India on the High UN Table since the time of Obama.
This standalone Visit of President Trump is important in its strategic imperatives even though pronounced by the boisterous optics and Tamasha. As Trump often likes to do better than his predecessor hopefully he will beat Obama's record of two visits to India, if he gets re-elected. After all the greatest democracy meets the largest democracy here in India.
The author is a distinguished fellow VIF. This article was first published in http://www.vifindia.org and belongs to them