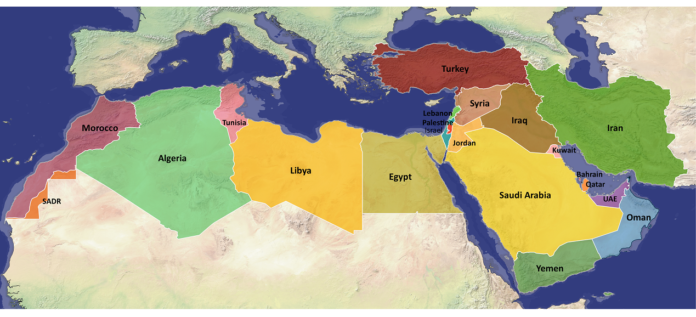 Fourth Israeli elections in less than two years returned similar results with no party securing amajority. Elections and the outcome in most media commentaries questioned the dexterity of Benjamin Netanyahu who as such holds the distinction of being the longest serving leader. But chips have been down for him as he was being called as 'Crime Minister' with growing problems like; splits within his Likud Party; the constant plotting of his former right-wing coalition partners; his own trials on corruption and fraud charges; and his lack of political vision that does not cater to his and his family's interests. Having won highest 30 seats while needing 61 to form a government, he has been asked by a reportedly unwilling President Rivlin to prove his majority by April 28.
By Amb Anil Trigunayat
Netanyahu's right-wing and his likely coalition partners appear even more right-wing parties. Aside from the Likud, which won thirty Knesset seats, they include Shas with nine seats; United Torah Judaism with seven; and Religious Zionism with six. With just 52 seats at his potential disposal, Netanyahu's base is more vulnerable and more extreme than ever before. Situation for the anti- Netanyahu coalition is also quite shaky.They do not seem to have much in common in terms of politics, ideology, or ethnicity other than their desire to oppose Netanyahu. An anti-Netanyahu coalition could include –Yesh Atid (seventeen seats), Kahol Lavan (eight), Yisrael Beiteinu (seven), Labour (seven), New Hope (six), the Arab Joint List (six) and Meretz (six) — the coalition would still fail to reach the required threshold of 61 seats for a simple majority. Efforts will be made to avoid the 5th election. How the Arab parties and those on the fringe will decide to remains to be seen.
PM Netanyahu wanted to visit UAE to flag the Abraham Accords as his major foreign policy achievement but as Abu Dhabi was not keen on this issue to be exploited for political purposes, given the prevailing sensitivities, the visit was postponed even though the bilateral relationship has grown exponentially in such a short time since Accords. Jordan also refused permission for overflight to Netanyahu as a reciprocal measure since the Crown Prince Hussein of Jordan's visit to Al Aqsa and Jerusalem. This fits well in deflecting the intended visit of Netanyahu to UAE.
Turkey and Egypt started normalising the relations which have been conflictual over the Muslim Brotherhood, Libya, and the Mediterranean in view of the changing regional geo-politics and US approach under Biden. This augurs well for improving smoother transition in Libya where both have been on opposing sides.
Saudi Arabia continued to make efforts to stabilise situation in Yemen, but the Houthis remained intransigent and drone attacks on Saudi facilities continued. Even though US would like to see the end of this conflict and has reversed Trump's decision to blacklist and sanction Houthis as a terrorist organisation, Biden Administration expressed its displeasure at continued Houthi attacks on Saudi sovereignty.
Suez Canal witnessed one of most severe holdups as a cargo container ship "Ever Green", under Panama flag, got accidentally grounded blocking all navigation through the canal resulting in billions of dollar in losses. Egypt is claiming reparations.
Chinese Foreign Minister Wang Yi visited several countries in the Middle East from March 24-30 including Iran, Saudi Arabia, Oman, Turkey and Bahrain. One of the biggest highlights was the signing of the Strategic Cooperation Agreement with Iran that might accrue $400 bn critical investments in Iran's infrastructure and security. "China is pursuing pragmatic interests and not effective resistance or strategic confrontation with others, especially with the West," claimed Hamid Abutalebi, who was also Rouhani's advisor. The visit to the region was to ensure continued support for the Chinese BRI project especially as US and Iran and the E3+2 are keen to resume the JCPOA (Iranian Nuclear Agreement – Joint Comprehensive Plan of Action) from which President Trump had exited in 2018 and talks ensued. China is hedging its bets by reinforcing its commitment to the region.
Sheikh (Dr.) Ahmed Nasser Al-Mohammad Al-Sabah, Foreign Minister and Minister of State for Cabinet Affairs, State of Kuwait visited India on 17-18 March 2021 at the invitation of Hon'ble External Affairs Minister Dr. S. Jaishankar. Both Ministers met in the morning of 18 March 2021 and reviewed all aspects of India-Kuwait bilateral relationship and discussed regional developments. They also established a Joint Ministerial Commission at the level of Foreign Ministers to steer the relationship. The Joint Commission Meeting (JCM) will act as an umbrella for all bilateral institutional engagements such as Foreign Office Consultations and Joint Working Groups. Apart from the existing Joint Working Groups on hydrocarbons, manpower and mobility, and healthcare, new JWGs on trade and investments, defence and security etc are envisaged to be established. Both sides will be celebrating 60th anniversary of establishment of diplomatic relations during 2021-22.
PM Modi had a telephone conversation with Crown Prince Mohammed bin Salman of Saudi Arabia and reiterated an invitation for him to visit India. Both leaders reviewed the functioning of the bilateral Strategic Partnership Council established in 2019 and expressed satisfaction about the steady growth in the India-Saudi partnership. PM Modi highlighted the opportunities that the Indian economy offers to Saudi investors and reviewed collaboration on Covid 19 and regional and bilateral issues of mutual concern.
Saudi Arabia and Houthi clashes
Saudi Arabia led coalition on 7 March launched a new air campaign against Houthi targets in Sanaa and other provinces. The campaign was carried out in retaliation for missile and drone strikes targeting key military and oil facilities within Saudi Arabia. The attacks on oil facilities have hampered Saudi Arabia's energy output and has shaken energy markets and the world economy. Saudi Arabia had carried out air campaigns against Houthi targets in the past, however, the capital city of Sanaa has been attacked after months. The Saudi assault has occurred after the US President Joe Biden announced his decision to end US support for the Saudi led war in Yemen. The Saudis have complained the US decision to revoke the designation of Houthis as terrorist organisation has encouraged the group to carry out assault against Saudi civilian and military targets.
The Houthi-run al-Masirah satellite TV channel reported that around seven airstrikes were conducted by Saudi forces in the Sanaa districts of Attan and al-Nahda. Airstrikes were also reported in the district of Bajil in Hodeida province.
Meanwhile in early March, the internationally recognised government under Abdrabbuh Mansour Hadi announced its decision to restore diplomatic ties with Qatar. Qatar since 2017 was facing embargo from Saudi Arabia and its allies over allegations of supporting terrorism.
Benjamin Netanyahu cancels trip to the UAE
Israeli Prime Minister Benjamin Netanyahu on 11 March called off his first trip to the United Arab Emirates (UAE). Netanyahu ahead of 23 March election was hoping to gain political mileage by meeting Abu Dhabi Crown Prince Mohammad Bin Zayed Al Nahyan and prove his diplomatic acumen. After missing the trip, he held a phone call with the Crown Prince who promised investment of US$ 10 billion.
Moreover, Israel Aerospace Industries (IAI) agreed to jointly develop an advanced drone defence system with the UAE state-owned weapons maker EDGE. The access to high tech drones would be highly effective to thwart any possible Iranian or Houthi strikes. Israel following the cancellation of the UAE trip carried out damage control to preserve the diplomatic momentum with the UAE and protect the fragile relationship with Jordan. Jordan has denied providing airspace to Netanyahu's flight due to disagreement over security arrangements during the planned visit of Jordanian Crown Prince to the Al Aqsa Mosque in Jerusalem.
The immediate cause of said dispute stems from Jordan's role as the custodian of the Al-Aqsa Mosque compound, the third holiest site in Islam. Jordan's Crown Prince Hussein bin Abdullah II planned to pray at the mosque on the Muslim holiday marking the Prophet Muhammad's ascension to heaven from the site. The visit was cancelled after dispute with Israeli security officials over the number of armed escorts accompanying the Crown Prince. Jordanian Foreign Minister, Ayman Safadi blamed Israel for changing the agreed-upon arrangements.
The latest friction reflects the deterioration in relations over the years. Jordan became the second state to sign a peace agreement with Israel in 1994 and security cooperation with Jordanian forces have been critical for Israel's security. Jordan in the past year has opposed the Israeli plan of annexation over parts of Jordan valley bordering the Arab state. Israel halted the plan in exchange of peace treaties with UAE, Bahrain, and few other Arab states. Jordan however continues to distrust Israel's approach in occupied territories.
Turkey intends to resume relations with Abdel Fatah Al Sisi regime in Egypt
Turkish government in March 2021 indicated its intention to resume relations with Egypt on intelligence and foreign ministry level. The discussions are currently happening on Track II level.
The relations between the two regional powerhouses have suffered since the military coup by Abdel Fatah Al Sisi in 2013. Recep Tayyip Erdogan during the onset of the 2011 Arab Spring in Egypt called for deposing the incumbent President Hosni Mubarak. Turkey was particularly favouring the rise of Muslim Brotherhood and the election of Mohammad Morsi as the first ever democratically elected President in Egypt. Turkey during this period proposed the idea of strategic alliance and called for both states to unite under 'axis of democracy'.
Turkey protested the coup under Sisi that toppled the Muslim Brotherhood led government. President Erdogan accused the interim government of plotting with Israel to overthrow the democratically elected government. Turkish leaders on several occasions called Sisi as a tyrant. Egypt responded by threatening to recognise the Armenian genocide. Moreover, learning from post-Ottoman political history, Erdogan and his AKP Party are apprehensive of military coup in the largest Arab state and its domestic consequence. On geopolitical level, both Turkey and Egypt are competing for influence in the Mediterranean Sea region and sides with opposing parties in Libya.
Turkey is increasingly alienated from regional equations and its relations with Gulf states have suffered over the years. It is likely that changes in the regional geopolitics is pushing Turkey to accept the new reality and mend ties with regional neighbours.
Israel conducts joint naval exercise with Greece and Cyprus
The Israeli Defence Forces (IDF) carried out joint naval exercise called 'Noble Dina" with Greece, Cyprus, and France between 7 and 12 March. Under the exercise, the participating states carried out anti-submarine procedures, search and rescue scenarios, and a scenario simulating battle between ships. The exercise was concluded on Thursday. The exercise was aimed to increase capabilities in underwater warfare, search and rescue, convoy escort and surface combat.
Israel, Greece, and Cyprus have taken several measures to thwart Turkey's growing aggressive actions in eastern Mediterranean region including plans to build a 2000-megawatt undersea electricity cable and 1900 km undersea gas pipeline. The defence ministers from three states met in November and agreed to increase military cooperation.
Suez Canal blocked for six days
The strategic Suez Canal, between 23 and 29 March was blocked after the accidental grounding of a 400 metres long giant container ship, Ever Given halting one of the busiest trade routes in the world. The Suez Canal is responsible for about 12 percent of global trade. Brent crude futures fluctuated before trading 0.9% higher at $65.18 per barrel while US crude traded up 0.7% at $61.42 per barrel around midday on 24 March.
The container ship built in 2018, registered in Panama and operated by the Taiwanese transport company Evergreen Marine was heading to Rotterdam from China. The container ship blocking the Suez Canal after five days was partially re-floated on 28 March. It passed successfully through the canal on 29 March. Reportedly, a backlog of 422 ships have been cleared in three to four days.
Iran and China sign 25-year strategic cooperation agreement
Iran and China on 27 March signed a 25-year strategic cooperation agreement called Comprehensive Strategic Partnership covering oil, mining, promoting industrial activity, transportation, and agricultural collaborations. Iranian Foreign Minister Mohammad Javad Zarif and Chinese Foreign Minister Wang Yi took part in the signing ceremony. Iran and China's annual trade in recent years was around US $20 billion.
Meanwhile, Islamic Revolutionary Guards Corp. (IRGC) on 15 March built a new underground facility for missile storage. Moreover, Iran has began enriching uranium at Natanz plant with a second type of advanced centrifuge, the IR-4. The Iranian government has stated it would not stop its 20% uranium enrichment until the US lifts all sanctions.
This article first appeared in www.vifindia.org and it belongs to them. The author is a research associate with VIF.