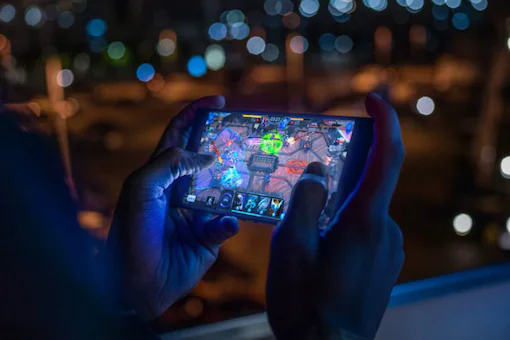 Sometimes success comes from whence least expected. Sometimes the people create their own success stories for the nation, uninvited and unappreciated, slipping under the radar of those trained and paid to watch for such things. The commanding space that India now occupies in the global business of gaming — as consumer and as creator — is an exemplar of this phenomenon.
By Anand Parthasarathy
Until five years ago, annual studies of India's media and entertainment industry hardly mentioned gaming as they looked at the usual suspects — cinema, TV, print media, books, electronic media, advertising, etc.
Then came the mobile phone explosion. When the number of handsets in use, crossed the magic number of a billion, some five years ago, it created in the hands of its Indian users an agni astra, a potent combo of empowerment and entertainment. A handy device for basic communication and gradually for financial transactions, that also served as a cool 'time-pass' tool.
Those casual games have evolved at amazing speed, from those early TickTackToe and Prince of Persia knock-offs to a raft of visually stunning, aurally striking games that span multiple cultures and traditions: Teen Patti coexists happily alongside Angry Birds; Pokemon with Balle Baaz.
Mobile games are not the only category of personal and professional games. The other gaming platforms are PC (laptop and desktop), consoles (like Microsoft's Xbox, Sony's Playstation and Nintendo's Switch) and cloud-based Internet gaming.
PC-Based Gaming Holds Its Own
Hardcore professional competitive gamers mostly use their own laptops or desktops — which has led to high prized hardware product sub-categories from leading makers — Asus with its RoG or Republic of Gamers brand, Dell with Alienware or HP with Omen end up costing much more than the same company's professional platforms.
The HP India Gaming Landscape Report 2021-22 revealed that 89 per cent respondents in a poll believe that a PC offers a better gaming experience than a smartphone and that four in 10 mobile gamers would migrate to a PC for gaming, for a better experience.
This might seem like a self-serving finding, but the fact remains that among India's Gen Z (18-24) and millennials (25-40), professional gaming is widely seen as a viable career option — and in this niche, a hand phone is not an appropriate platform.
Microsoft's acquisition of Activision earlier this year has brought popular console games like Warcraft and Call of Duty to its lineup, and this will help it to bolster and expand the market for Playstation. With the Activision buy, Microsoft also acquired one of those all-time favourite mobile games — Candy Crush.
This is a huge plus because the fact remains that mobile games constitute 95 percent of the total market for games. And within this mobile gaming world, India is the world's largest market: In 2021 Indian players installed 4.8 billion games on their phones — every fifth game downloaded was in this country, reported the India Mobile Market Spotlight 2021.
Their most downloaded game was LudoKing, a free-to-play title developed by Indian studio Gametion Technologies. The game of ludo is actually based on the ancient Indian game of Pachisi (Hindi for '25') also known as Chaupad — famously, the game between Pandavas and Kauravas in the Mahabharata.
Interestingly, this is something of an exception because only some 7.6 percent of the mobile games Indians play, are Made in India.
More details of what India likes to play are to be found in the March 2022 EY-FICCI report: "Tuning into consumer: India Media & Entertainment":
Not all Indians are into phukat time-pass games. Many are increasingly into transaction-based games — that is, playing for money. Rummy and Poker are the two most popular transaction games which together generated revenues of Rs 72 billion in 2021. Another popular category is fantasy sports — which sees a spurt every time the corresponding live game tournaments like Cricket, Kabaddi,football or hockey occur. Popular games include Dream11, Cricplay and MPL — Mobile Premier League.
The government bans on many Made-in-China games (like PUBG, Free Fire) have spurred the development of desi alternatives.
A survey by Redseer, quoted in the FICCI report, suggests Indians are ready now to play and pay for made-in-India games.
This has seen a spurt in the development of new games rooted in Indian idiom and culture, without sacrificing the zip and colour of 'imported' games. Typical is the recent "Kurukshetra: Ascension" game.
Women Gamers: A Fair Number
An interesting facet of mobile gaming in India is the high proportion of women who play — a trend that took off during their long months of being indoors due to the Covid shutdowns. The Mobile Marketing Handbook, India, brought out by InMobi says 49 per cent of Indian women started to play during the pandemic.
Today, 43 per cent of all mobile gamers in India are women and 49 per cent of them are aged 34 or older. They spend an average of 53 minutes a day playing mobile games — it is their 'me time'.
All this may have a salutary effect on the national balance sheet. A November 2021 study by analysts Sequoia and Boston Consulting Group (BCG), calls "Mobile Gaming a $ 5 billion+ opportunity" for India, by 2025, up from $ 1.5 billion last year.
Gaming in India is still much smaller than the other two big markets. It constitutes just 1 per cent of the world's market compared to China (26 per cent) and US (23 per cent).
But what excites industry watchers is that while the growth rate is almost stagnant in the other two giants at between 8 percent and 10 percent, the Indian gaming market is tearing away at 38 percent.
A big enabler will be the emergence of 5G technology in the market, suggests the PwC India Report on Media and Entertainment 2022.
It shares an interesting fact: India is the third fastest-growing video games market in the world, after Turkey and Pakistan.
PwC's estimates of the annual growth rate of the Indian games market is somewhat muted compared to BCG-Sequoia: 18.3-20.6 percent depending on the segment.
The Indian government can spot a good thing when it sees one — which is why it announced a Digital Gaming Research Initiative in April this year. The initiative, under the Science and Engineering Research Board (SERB), is to help develop high-end technologies for an immersive gaming environment, even while promoting Indian culture.
This has prompted some desi developers to announce India-themed games like Fau-G Fearless and United Guards or Indus Battle Royale. The latter has coined a new term "Indo Futurism": Supergamings take on Indian culture with a futuristic twist for gamers across the globe!
However, there has been some confusion on the regulatory front which led to avoidable hiccups in some states which rushed to ban some games like rummy and fantasy sports on the grounds that they were games of chance rather than skill and form of gambling.
Tamil Nadu led this banning spree followed by Kerala and Karnataka. In each case, the industry had to appeal the classification in the respective high courts which overturned the bans.
Other state courts to do so were the benches in Punjab and Haryana, Rajasthan and Mumbai. As things stand, since a year now, the Supreme Court has upheld fantasy sports as games of skill, after a case involving Dream 11.
Such roadblocks removed, gamers in India are free to indulge in what is emerging as by far their favourite pastime on their phones. When there are no mails to check, YouTube videos to watch, Facebook posts to respond to and WhatsApp messages to scan, or micro banking to do — well that's the time for wall-to-wall gaming.
And if anyone asks, tell them, "We are like that only".
This article first appeared in www.swarajyamag.com and it belongs to them.