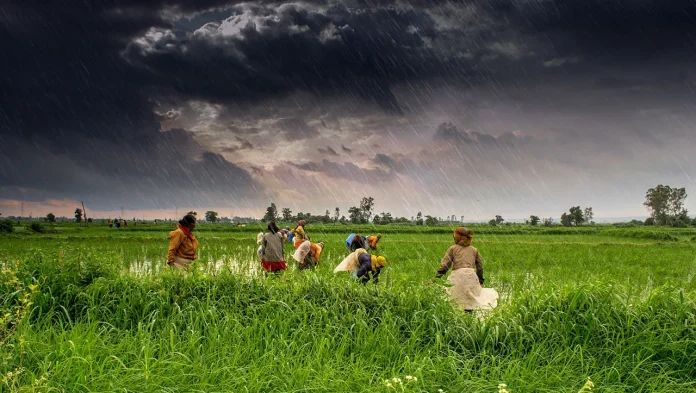 Not many may know that Gujarat leaves most of the other states behind in agriculture. While the nation hovers around single digit growth for the agriculture sector, Gujarat has consistently maintained double digit growth rate, and agricultural revenue has seen an exponential growth over the past two decades. 
By Debraj Bhattacharya
Around 65 per cent of the state's geographical area is cropped, and the state maintains over 10 per cent CAGR for this sector.Other factors that have added to this have been the state's active policies around subsidies, expansion of irrigation, and aid in market support.
Snapshot of progress in agriculture of Gujarat
Over past two decades, Gujarat has showcased some stellar growth in this space.
Agricultural revenue – Increased from Rs 9,000 crore to Rs 205,000 crore. For FY 2022-23, State aims to increase this beyond Rs 293,000 crore.
Agriculture budget – From Rs 398.34 crore in 1994-95, this has shot up 19 times to Rs 3,737 crore in FY 2022-23.
Credit rate to farmers – From 16 per cent interest rate two decades back, farmers today obtain crop credit at 0 per cent interest.
Irrigation coverage – In 2001, 37.96 Lakh Hectares were covered under irrigation. This has jacked up to 68.29 Lakh Hectares in 2022.
Subsidy to farmers – 61.82 lakh farmers received a total of Rs 5,107.94 crore subsidy.
Kisan Suryoday Yojana – An important scheme to provide day time agriculture power supply has been aiding farmers in Gujarat.

4,000 villages are planned to be covered under this scheme by end of January 2023, with a target to cover all villages by end of 2024. The first phase has covered 1 lakh farmers.

Drone technology in agriculture – Usage of drones to spray nano-fertilisers and insecticides has been encouraged by allocation of Rs 35 crore for around 1.4 lakh farmers.
Pradhan Mantri Kisan Samman Nidhi – Under this scheme, direct bank transfer amounting to Rs 1,149 crore has happened to 57.48 lakh farmers under tenth instalment.
Agricultural Universities – Four such universities have been set up at Anand, Navsari, Junagadh, and Dantiwada.
Crop-specific assistance – Aid of Rs 300,000 per hectare for farmers cultivating 'Kamalan' (Dragon fruit) and Rs 450,000 for SC/ST farmers cultivating the same have been promulgated.
Ease of farmer access to schemes – This has been a key focus of the state government. The ikhedut portal has been a key enabler to this effect. Schemes around access to fertilisers, harvesters, PVC pipelines, chaff cutter, and subsidy are all put up for easy applications by farmers.

While we worry about ease of doing business for investor community, the oft neglected community of farmers is granted greater ease and access to facilities by such initiatives!
The 3 M's
While the state has made commendable advances in agriculture as discussed above, one interesting correlation that the political prospects have with the 3 M's is noteworthy.
Now, what are these 3 M's? MSP, Monsoon, and Markets! And if the present state of these three were anything to go by, history predicts that the ruling dispensation is at favour in the impending elections. Let us see how.
Out of the 182 assemblies in Gujarat, 55 seats or roughly 30 per cent are in four major urban centers. The remaining majority of 127 are in semi-urban or rural areas. These are where a key determinant for electoral prospects is – you guessed that right – agriculture!
Majority of Gujarat is rain-fed, which means that monsoons have a key role in the prospects of this sector. MSP support and ease of market access are prime deciders as well. If we study the electoral performance of 2017 vis a vis the 3 M's, we get some interesting insights.
Back in 2017 
In 2017, Gujarat had received around 909 mm of rainfall, about 12 per cent more than average. Kharif sowing (between April to September) was at 85.30 Lakh Hectares. That was down by 1 Lakh Hectare from 2016 levels.
The two key kharif crops in Gujarat are groundnut and cotton, that make up around 50 per cent of the total kharif sowing. The harvest and post-harvest economics for these two thereby decide a lot of well-being for the populace.
If we look at Market prices, groundnut was down 15 per cent to Rs 3,750 per quintal during October 2017. MSP levels were pretty tepid too.
Fast forward to 2022
The Rain Gods have been generous this year, with the state receiving about 1,010 mm so far, a good 20 per cent more than the state average of 850 mm. The good part is, rains have been pretty widespread this year.
The otherwise parched regions of Kutch, North Gujarat, and Saurashtra have received excess rainfall amounting to 85 per cent, 21 per cent, and 9 per cent, respectively over their average rainfall.
Sowing has been pretty stellar too. As of September 2022, kharif sowing has reached 85.34 Lakh Hectares, which is 1 Lakh Hectare more than previous year.
MSP has been hiked by 31 per cent and 48 per cent for groundnut and cotton respectively, and that bodes well for farmers.
Markets have been very supporting too. As compared to 2017 market rates, cotton growers are getting 88 per cent more realisations, while for groundnut, market rates stand at 81 per cent higher.
If these numbers are anything to go by, safe to say that agricultural fraternity in Gujarat have never had a better time!
Region-wise analysis
Let us look at how the five political regions in Gujarat fared in 2017 as compared to their agriculture report card.
Saurashtra and Kutch – There are 54 seats in this belt. In 2017, BJP had won 23, Congress 30, and NCP managed 1.
Patidar reservation agitation, farm distress had badly hurt the saffron party here. A key factor here is that, Saurashtra has the largest concentration of cotton and groundnut crops in the state.
Farmers were clearly displeased with the non-remunerative prices for their produce. This was compounded by inadequate procurement, and the Patel reservation factor.
In the present times, higher MSP and consistently high market price for groundnut and cotton seem to be reversing the old trend. The government has tried to address concerns of distressed youth through reservation provisions. The prospects clearly look better for the ruling dispensation in this belt this time around.
North Gujarat – There are 32 seats in this belt. In 2017, BJP managed a meagre 14, while Congress went up to 17, with 1 going to 'Others'.
The key crops in northern belt of Gujarat are soybean, castor, groundnut, cotton, with moong and urad included.
A much better monsoon this year has ensured substantially higher production levels for these over 2017.
The MSP for soybean stands at Rs 4,300 per quintal for 2022, and market rate is approximately Rs 4,825 per quintal. This is well above MSP level. All the pointers bode well for the ruling dispensation this time.
Central Gujarat – There are 61 seats in this belt. In 2017, BJP secured 37, Congress 22, and 'Others' 2.
The urban concentration in this belt is high, with Ahmedabad part of this region. The key crops in this region are paddy, cotton, maize, pulses.
A notable point here is, since 2017, paddy has seen an MSP hike of around 20 per cent, to Rs 2,040 per quintal presently.
The other positive for this region has been its irrigation network, with a good connection of canals for horticulture and other cash crops. Once again, this region seem to keep up, and probably improve on, the trends from 2017.
South Gujarat – There are 35 seats in this belt. In 2017, BJP had a hands-down lead of 25 seats over 10 seats for Congress.
This belt is a key battleground, with four ministers in the Bhupendra Patel cabinet coming from this region. Navsari, Tapi, Valsad districts happen to be the key sugarcane areas.
In fact, south Gujarat is one of the major sugar-producing belts of India, with around 90 Lakh Quintals of sugar produced annually. A favorable MSP and heightened market price will all the more help BJP maintain, and even grow, its base in this belt.
Concerns remain on the wages and working conditions of sugarcane laborers though, most of whom are migrants to Surat and other districts for half a year to work as sugarcane harvesters.
2017 had seen a close call in Gujarat between BJP and Congress, with former at 99 and latter inching well up to 77 seats. This was partly driven by distress among farming community related to MSP, market prices, procurement challenges, and reservation concerns.
2022 looks way different, with monsoons in bountiful, a raised MSP, and market prices hovering well above MSP levels for most crops. "If agriculture fails, everything else will fail", said Dr MS Swaminathan, father of India's Green Revolution. For all the cacophony surrounding India's mega elections, this maxim holds true for electoral prospects of any party as well.
Come December, and Gujarat will decide if the state has failed the hands that feed it's populace, or the greens are lush enough to retain the splendor of the Saffron – one more time.
This article first appeared in www.swarajyamag.com and it belongs to them.