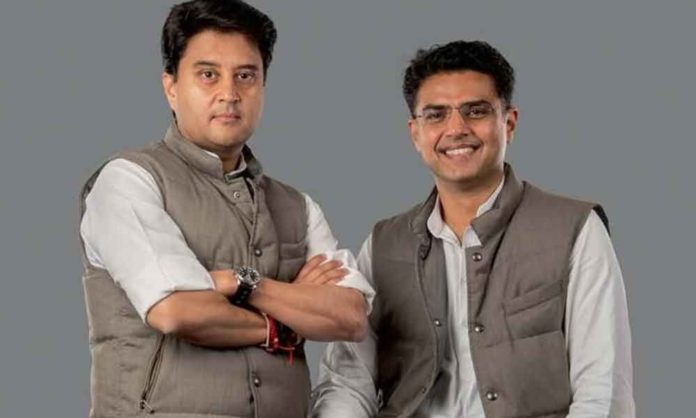 Speculation is rife whether Sachin Pilot, another young Congress leader will tread the same path as Jyotiraditya Scindia. While it seems unlikely at the outset given what is at stake for the young leader, one doesn't know what plans master strategist Amit Shah has on his mind.
By Anil Sharma
The question right now generally being asked in political circles is whether Sachin Pilot will put up a Jyotiraditya Scindia kind of act in Rajasthan. It really is a million dollar question and the answer to this is better known to Pilot alone.
If you ask us, Pilot doing this, though Scindia is one of his closest friends, seems highly unlikely. But there is a caveat, as William Clay said, "This is quite a game, politics. There are no permanent enemies, and no permanent friends, only permanent interests."
So, what Pilot has on his mind is known only to him. What are the motivations for Pilot to defect ? The chances look bleak as Pilot, unlike Scindia has a lot to lose, if he parts ways with  Congress.
This speculation about Pilot doing something like Scindia gained momentum after he tweeted on March 11, "Unfortunate to see @JM_Scindia parting ways with @INCIndia. I wish things could have been resolved collaboratively within the party."
And he was not alone, Vishvendra Singh, a minister in Gehlot government and close to Pilot tweeted, "It is sad to see @JM_Scindia Ji move on from the Congress party. Our loss, will be another party's gain. I knew his father well, who was instrumental in getting me my first congress ticket from #Nadbai Vidhan Sabha. I wish Scindia Jr. Sahib the very best for his new endeavor".
These tweets triggered speculations. Political pundits and people interested in politics started to read between the lines and felt that Pilot was trying to throw his own hints towards some future developments.
Everyone knows all is not hunky dory between him and Rajasthan chief minister Ashok Gehlot and at times Pilot has been quite critical of his own government, pretty much like Scindia used to be about the Kamal Nath government in Madhya Pradesh.
Pilot has questioned his own government especially on law and order and deaths of children in the Kota government hospital in the recent past.
Pilot besides being a deputy chief minister in Rajasthan is also the state president of the Congress in the state. He holds two powerful posts and despite his so called differences with the chief minister Ashok Gehlot and some of the close confidants of the CM, he is unlikely to move on as he has quite a lot to lose.
On the contrary Scindia quitting Congress has come as a blessing in disguise for the younger leaders within Congress. The now will have a bigger say in decision making process, plus they will also be heard more patiently by senior Congress leaders both at the centre and in the states.  The general complaint by Pilot's supporters has been that he has been marginalized, but now we feel with the latest developments in Madhya Pradesh he will become much stronger in the party and will have a more important role to play.
Congress would also not risk losing another good leader who is highly educated, knowledgeable and above all a great orator. Congress, to be frank does not have many charismatic leaders and Pilot is an exception. The party really needs him at present more than ever and knowing Ashok Gehlot, an astute politician, he must be devising a strategy to keep the Congress flock together and especially keeping Pilot and his supporters happy. And let us be clear Gehlot is not like Kamal Nath. Even some of his opponents, mainly in the BJP, admire Gehlot for his political astuteness and jokingly say that he only thinks about politics day and night and even while sleeping.
But in the end we will again come back to that nothing is impossible in politics and there are no permanent foes in politics. So let's wait and watch, and see what the Chanakya of BJP, home minister Amit Shah has in his mind.