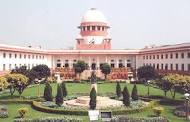 Ram Temple to come up at the disputed Ayodhya site
The bench of judges presiding over the Ayodhya land dispute unanimously ruled that a trust be set up by the government for the construction of a temple at the disputed site
By Aseema team
The supreme court of India has delivered its verdict on the 70 year old Ayodhya land dispute. It has ordered the government to establish a trust that would eventually construct a Ram temple at the disputed site.
The 16th century Babri Masjid that existed on the site was razed to the ground in December 6, 1992. The Hindus have claimed that the Masjid was built by Moghul emperor Babur after demolishing a Ram temple that previously existed on the site. They also maintain that it was the birthplace of Shri Ram.
A bench comprising chief justice of India Ranjan Gogoi, justices S.A.Bobde, D.Y.Chandrachud, Ashok Bhushan and Abdul Nazeer delivered the landmark judgment.
The dispute was pursued by three major entities. Nimrohi Akhara, a religious entity staked the claim for constructing a Ram temple at the disputed site and wanted the managrement rights of the temple. Hindu Mahasabha, which represented Ram Lalla wanted the possession of the entire site for the construction of the temple with no part being awarded to either of the other two parties that included the Sunni Wakf Board as well. The Sunni Wakf Board, which is in charge of Muslim properties wanted the mosque at the site to be restored. The Supreme court rejected the claim of the Sunni Wakf Board. Fourteen appeals had been filed before the Supreme court countering a 2010 judgment by Allahabad high court which had ruled that the 2.77 acres of land should be equally be divided among the three petitioners.
The bench said that Nimrohi Akhara could be entrusted with the running of the trust to build Ram temple if the government saw it fit. The court also ordered the allotment of 5 acre land for Muslims to construct a mosque.