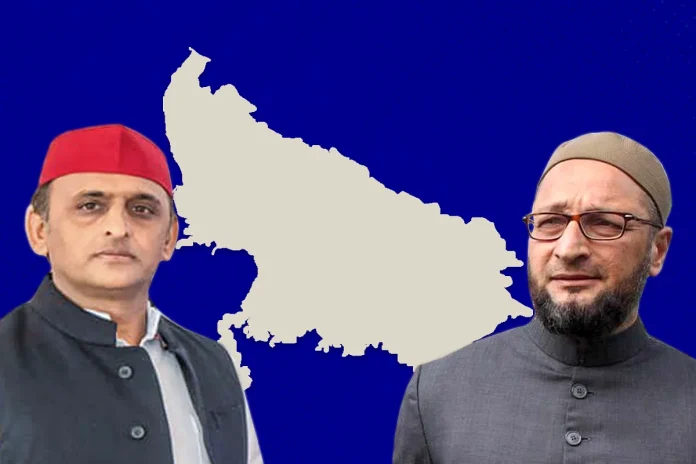 The Samajwadi Party (SP) faced an upset in Azamgarh and Rampur Lok Sabha seats in the by-polls, losing both to Bharatiya Janata Party (BJP). The two seats were vacated by SP chief Akhilesh Yadav and senior leader Azam Khan, and were considered the party's bastions.
By Swarajya Staff
Owaisi Calls SP 'Useless'
Amidst SP's startling and humiliating defeat, the All India Majlis-E-Ittehadul Muslimeen (AIMIM) chief Asaduddin Owaisi called the party completely "useless". Post the result, he tweeted in Hindi, "The results of Rampur and Azamgarh elections clearly show that the Samajwadi Party (SP) has neither the ability nor the capability to defeat the BJP."
He appealed to the Muslims to not waste their valuable votes on useless parties and create their own independent political identity and decide their fate themselves.
Owaisi was snubbed by Akhilesh Yadav in the 2022 assembly elections after he expressed his willingness to ally with any party, other than the BJP and Congress. Though it only garnered 0.49 per cent of the total votes polled, AIMIM is considered to have upset SP's prospects in several seats.
Before the by-polls, AIMIM had announced its support for the BSP candidate in Azamgarh, Guddu Jamali. Jamali was able to garner a significant percentage of votes, splitting the vote share three ways. The BJP, which received 34 per cent of the popular vote, won by just 1 per cent in a three-way fight.
SP's Disconnect Among Muslims
In Rampur, the SP candidate, Asim Raja lost to BJP's Ghanshyam Lodhi by 42,000 votes in a two-way contest. Rampur has a 55 per cent Muslim and 42 per cent Hindu population.
Yet, the SP candidate, considered a close associate of Azam Khan, failed to consolidate Muslim votes in his favour, showing a deep disconnect with the community, which is starting to show its displeasure with the parties like SP taking them for granted. During the campaign, SP chief Akhilesh Yadav did not visit the constituencies, going for vote, even once.
The Samajwadi Party candidate from Azamgarh seat and Akhilesh Yadav's cousin, Dharmendra Yadav pinned SP's defeat on the Muslim community. He said that his party failed to convince the Muslim voters.
However, it is not only Muslims, but SP's core vote bank of Yadav, too, that could have gone in the BJP's favour.
This article first appeared in www.swarajyamag.com and it belongs to them.