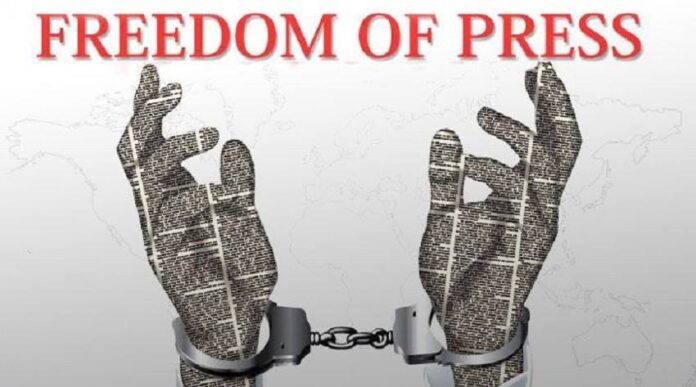 A strained relationship exists between the media and state in Pakistan. Pakistan has gradually and systematically strengthened a tyrannical grip over freedom of expression. More sophisticated and complex methods of silencing dissenting voices have been employed in recent years. In Pakistan, arbitrary arrests, detentions, and baseless criminal prosecutions are used as instruments of press censorship.
By Aakriti Vinayak
The most pressing concern for Pakistan's military and inter-intelligence services is to throttle the freedom of speech. Even though Pakistan government propagates freedom of speech, those who pose awkward and often difficult questions, are most at risk. The word "free" itself is very ambiguous. Particularly in journalism, for some it means an access to information. But for others it is the "freedom" to transgress boundaries, problematize the given narrative and raise uncomfortable questions. In Pakistan, the latter are persecuted, harassed and vilified.
In this context on 31 May 2021 senior Pakistani journalist Hamid Mir was told to stop hosting his talk show 'Capital Talk' by the Geo News channel after he critically talked about the military establishment. He accused them of censoring the media and persecuting journalists. Mir came under the scrutiny after he delivered a fiery speech at a protest on May 28 in the wake of the attack on fellow journalist Asad Toor. The action against Hamid Mir drew widespread criticism.
The Human Rights Commission of Pakistan (HRCP) gave a statement that firmly rebuked the decision of taking Hamid Mir off the air three days after he spoke against the escalation in curbs on press freedom. In the statement the HRCP mentioned that "He must be allowed to resume his professional duties immediately and the threats against him investigated". Amnesty International also condemned the punitive action taken against Mir by saying that "it severely undermines the responsibility media outlets and authorities have to protect free speech in an already repressive environment". Steven Butler of the Committee to Protect Journalists alerted the development underscored "the lack of true press freedom in Pakistan"6. The opposition also slammed the attempt to intimidate journalists. Marriyum Aurangzeb, the spokesperson of the Pakistan Muslim League-Nawaz, the largest opposition party said: "We condemn such arbitrary decisions against freedom of speech & oppose all pressures to intimidate journalists into silence".
Pakistan's press has had a complex relationship with successive governments and the powerful military over many years. However, under Imran Khan's government the press freedom has been under multiple attacks.
There have been constant media clamp downs. The authorities have considerably failed to give necessary protection or hold perpetrators accountable. When Imran Khan came to power he vowed that his government would ensure freedom of expression for journalists and the media. But behind the scenes, the government and the military establishment exerted pressure on media houses to not report anything that showed the military in a bad light. In fact after winning the election, the PTI-led government first stopped state advertisements of two leading media houses, DAWN and Geo/Jang. Media groups who have questioned or critiqued the government were attacked. This led to a disruption in the home delivery of newspapers by spreading fear amongst the hawkers, government advertisements also disappeared from some media groups; cable operators were asked to either block channels or shift the location from their usual slot to the last numbers on the cable network to confuse viewers.
There seems to be an atmosphere of intimidation, and fear. There are several cases of reporters being abducted and beaten, critical columnists being denied space, sackings of TV commentators and many other cases of self-censorship. In 2019, a live Geo News interview of former President Asif Zardari by Hamid Mir was abruptly interrupted. In fact over the past two years journalists have complained about the curbs on their ability to do their job freely. Many journalists like Talat Hussain, Najam Sethi, Nusrat Javed and Murtaza Solangi have been forced out of their jobs. In July 2020, another prominent journalist, Matiullah Jan, was abducted by unknown gunmen in police uniforms. He was blindfolded, gagged, bound and assaulted for 12 hours before being released. Perhaps, nowhere in Pakistan, the threat for journalists is so grave as in Balochistan and Khyber Pakhtunkhwa.
Further draconian laws are being used to stifle journalists and activists. In January 2019, the Imran Khan Government through a cabinet decree approved the formation of Pakistan Media Regulatory Authority (PMRA), a single body which is tasked with regulating all forms of media, especially digital media platforms. In February 2020, Pakistan government passed a set of regulations to control the social media as well. The "Citizens Protection (Against Online Harm) Rules, 2020" mandates the social media platforms to remove or block content which is considered objectionable by the government.
On the other hand Imran Khan continues to say that there is no media crackdown in the country. In fact he was audacious enough to say that Pakistan media has more freedom than the British media.
However in reality we see a strikingly different narrative. From September 2018 through to January 2020, Freedom Network reported seven journalists and one blogger were killed, six were abducted, and 15 were slapped with legal cases, among a total of 135 "violations against media practitioners.10" Further, Covid-19 pandemic has exacerbated the violence against the journalists as well as censorship and reprisals for questioning government policies in Pakistan.
Such acts have also reflected negatively on Pakistan's image abroad. The EU recently said it was concerned about the frequently reported cases of violence, intimidation, abduction, and killing of journalists in Pakistan. In fact Pakistan fares poorly in global press freedom rankings. Since Imran Khan has taken over as Prime Minister in 2018, it has fallen six places (to 145) in the Reporters Without Borders World Press Freedom Index. In 2020, it ranked ninth on the Committee to Protect Journalists' annual Global Impunity Index, which assesses countries where journalists are murdered regularly and their killers go free.
The recent Hamid Mir's case is a reminder that Pakistan's hypocrisy and the deep state get exposed time and again when brave journalists cross the red lines and speak against the military. When citizens are denied their right to information, it results in crumbling of democracy. It gives an impetus to the state to propagate its own narrative without challenge. Under Imran Khan's government freedom of expression and speech exist only on paper. This is a failure on the part of the state to honour its commitments to respect and uphold people's human rights to speak in a fearless manner.
This article first appeared in www.vifindia.org and it belongs to them.