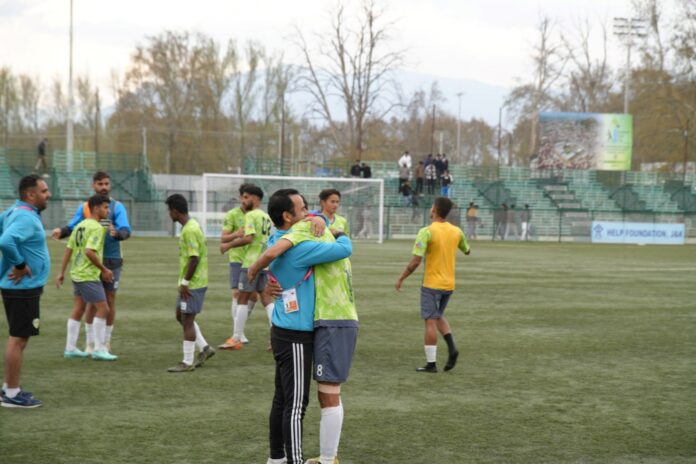 The Kashmir Valley has been a disturbed area for several decades. It has witnessed the waxing and waning of Pakistan-sponsored terrorism and this has had a deep impact on the lives of people. Several initiatives have been undertaken by the Union and State governments as well as the common people to steer away from the shadows of conflict. In fact, at this point in time, terrorism has become less of a security concern compared to the menace of drug addiction and related crimes. It is believed that the drug problem in Kashmir too has been peddled by Pakistan.
By Dr Arpita Anant
The young people in the Valley are particularly afflicted by this; they deal with serious mental health issues resulting from experiencing a less than normal way of life and look to drugs as a way of escape. Back in 2020, the duo of Mushtaq Bashir and Hinan Manzoor conceived of a way of dealing with this problem. They started a football club called Downtown Heroes to engage the young people of Srinagar in a positive manner. While they are both corporate workers, they are supported by team of people who believe in the power of sports – Irfan Shamiri, Amjad Khan and Ajaz Ahmad. All three are alumni of the Regional Engineering College (REC), Kashmir.
A report by the ANI states that the aim of club is not only limited to giving the youth a sense of purpose, discipline and ambition, but also to give Downtown Srinagar a new identity distinct from its association with conflict and protests. The goal is also to inspire the youth to take pride in local heroes and aspire to greater things in life. In every team, there are at least 9 or 10 players from the Kashmir Valley. In a very short duration since its formation, Downtown Heroes FC has emerged as one of the most promising teams from the Valley. It has emerged at the top of the State League and hence in 2022-23, it has secure a place for itself in India League 2nd Division (I-League 2). I-League 2, which is the third highest tier after Indian Super league and India League, consists of a total of 21 clubs. Some of it co-Leaguers in this category are the Ahmedabad Racquet Academy FC (Ahmadabad, Gujarat), , Delhi FC (New Delhi, Delhi), Dempo FC (Panjim Goa), Bengaluru United FC (Bengaluru, Karnataka), Golden Threads FC (Kochi, Kerala) and Jagat Singh PalahiFC (Punjab), RKM Football Academy (Narayanpur, Chhattisgarh), Shillong Lajong (Shillong, Meghalaya), Techtro Swades United FC (Una, Himachal Pradesh), United Chirang Duar (Chirang, Assam) etc.
The Downtown Heroes face some challenges. The lack of good coaches and coaching staff is one of them. Another is the lack of exposure to young talent from Kashmir. The founders of the club have met with the officials of the All India Football Federation (AIFF) to apprise them of these difficulties and discuss ways of further development of football in Jammu and Kashmir.
Downtown Heroes, however, are not alone in their endeavour. The Lonestar Kashmir and Real Kashmir are the other football clubs that were set up in 2013 and 2016 respectively. Together they are attempting to cultivate local talent that can then shine at the national and international level. Such endeavours in areas affected by violence deserve all the support and encouragement they can get.
This article first appeared in www.vifindia.org and it belongs to them.