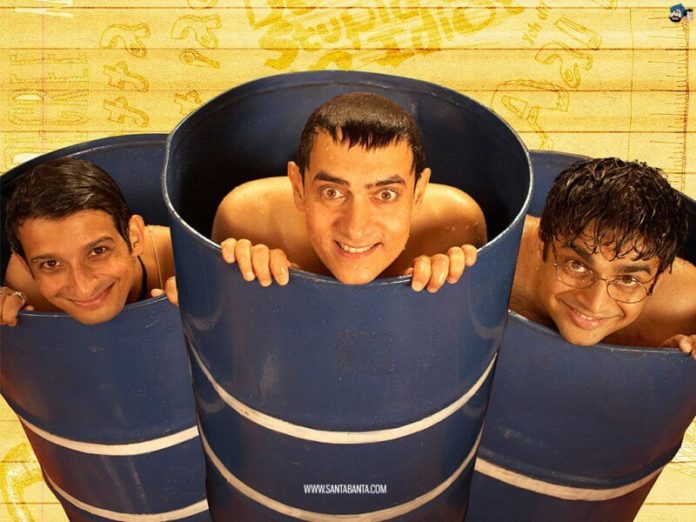 By Ganashyam
"The mainstream commercial film industry in India is caught in its own web of star system and formulaic plots. Though the industry has ample talents to create new stories, dynastic hegemony and eye for profit is keeping such talents from emerging."
Some accept it, some don't. some openly flaunt it, some others push it under the carpet. But whatever you do, you cannot deny the fact that Bollywood and other 'woods' in the Indian film industry have always been in awe of their richer, better off, counterpart in the west, Hollywood.
India is the biggest producer of movies in the world. Combined, the number of movies we make far outnumbers the number of movies made in Hollywood and any other part of world. Still, we remain a poor cousin of Hollywood movies when it comes to ideas and their execution. In fact, even the names given to Hindi film industries and other language film industries down south, like Bollywood, Sandalwood, Kollywood, Tollywood etc are cheap imitations of Hollywood.
It's not as if India doesn't make great films on its own. From Satyajit Ray to Ritwik Ghatak to Adoor Gopalakrishnan to Girish Kasaravalli, India always has made films that have forced the world to sit up and take notice. Even in the so called main stream commercial cinema, films like Mother India, Mughal-E-Azam, Sholay, 3 Idiots have reached audiences all over the world and made Indian cinema popular. In fact, Raj Kapoor had more fans in Russia than he had back in India. Shah Rukh Khan has a dedicated fan club in countries like South Korea and Mongolia. Remember, these are not NRI Indians who have formed these fan clubs. These are native South Koreans and Mongolians who don't understand Hindi who have formed these clubs.
And yet, these are exceptions and exceptions only prove the rule. By and large, the mainstream commercial film industry in India is caught in its own web of star system and formulaic plots. In South India, where people feel much more passionately about movies than people in northern and eastern parts of India, movies and movie stars are big. Temples are built for them and people literally throw coins on screen when their favorite hero appears on screen. Girls write love letters in blood and fans imitate their favorite hero's hair styles and body language. In such scenario, which hero or heroine will dare to do something off the track and risk his career?
So, we are caught in a trap. For people to come to the theatres and watch their favorite actors in action, it should have everything they expect. So fights where the hero bashes up a screen full of baddies, songs where the heroine gets wet in rain, and traditional family sentiments all become a part of every big hero movie. The plot changes only slightly, but hero is always a hero. He cannot play a negative character for the sake of his fans.
Hollywood has a broader market and they have deeper pockets. Yes, film actors are celebrities there too and people go gaga over them too. But they certainly don't generate the same kind of hysteria that is seen for the film stars back in India. So they have the freedom to experiment. Also, Hollywood, because of its international appeal and huge money, often attracts talents from all over the world and delivers the best of movies in terms of content and production values.
So, every year, we get a huge number of movies where the plot, and sometimes the entire narrative, is copied from Hollywood movies. So, the Godfather becomes Sarkar and It happened One Night becomes Dil Hai Ki Manta Nahin. Oldboy becomes Zinda and Bluestrak becomes Chor Machaye Shor. Mrs. Doubtfile become Chachi 420 and Seven Brides for Seven Brothers becomes Satte Pe Satta.
The list is endless, and it has no end as filmmakers in future too will continue to be 'inspired' by Hollywood movies. Some hide it, but some other filmmakers like Ram Gopal Varma openly flaunt from where they have 'lifted' the scenes in their movies!
A part of the problem with Indian films is that we are so obsessed with Hollywood, that we simply refuse to look at the rich content that we have in our literature. A harry Potter and Spiderman become phenomenal hits in the land where children have the endless supply of Panchatantra stories and lord Hanuman to look for inspiration. This is simply because our filmmakers neither have the creativity nor the resources to make films that are based on our own stories.
It's not as if our filmmakers lack vision and creativity. Main stream Hindi film actors like Aamir Khan continuously experiment within the framework of commercial cinema and deliver massive blockbusters, inspiring hoards of other filmmakers to try out commercial subjects with a difference. We only need more superstars like him to make films that flaunt subjects of our own, rather than copying films from Hollywood.
It's not the lack of talent, it's the lack of will, that is stopping Bollywood…..errr.. Hindi film industry to reach its true potential.
Box Item
Hollywood Apes Bollywood!
Yes, you read that right! It's not always that Bollywood copies Hollywood. Sometimes, tables turn and Hollywood copies its inferior counterpart. Here are some examples of suspected copies.
1. A Common Man (2013)– A Wednesday (2008)
Chandran Rutnam had to cast Academy Award winner Ben Kingsley to pull off Naseeruddin Shah's character from A Wednesday . Yes, A Common Man is not just inspired but is an official remake of Neeraj Pandey's masterpiece.
2. Delivery Man (2013)– Vicky Donor (2012)
The difference between the two movies may lie in the plot and the fact that Vince Vaughn's sperm donations amounted to a total of 533 kids being born as compared to Ayyushman's 53 (guess Vince is more fertile). But the basic idea of the film, sperm donation, has been inspired by Vicky Donor.
3. Fear (1996)– Darr (1993)
Apart from the name (direct translation) and the love triangle, the epic scene of the stalker, Shahrukh Khan, carving K-K-K-Kiran's name on his chest has also been adapted by James Foley in his American thriller, Fear .
4. Win A Date With Tad Hamilton! (2004)– Rangeela (1995)
Well the best friend may not be a tapori as portrayed by Aamir Khan, but the basic plot of the movie is a girl caught in a love triangle between her best friend and a movie star.
5. Kill Bill (2003)- Abhay (2001)
Though the plot differs, this famous thriller by Quentin Tarentino had action sequences which he himself told Anurag Kashyap were inspired by the Kamal Hassan-starrer Abhay. Abhay was the hindi adaptation of Aalavandhan (a 2001 Tamil film) which also starred Kamal Hassan.
6. Pearl Harbor (2001)- Sangam (1964)
Pearl Harbor was less about Pearl Harbor but more about a romantic love triangle between two best friends and a girl. Plots for both movies are fairly similar and the only difference between the two movies was that Sangam had only one friend as a pilot whereas its Hollywood counterpart had both.
7. Leap Year (2010)– Jab We Met (2007)
The makers of Leap Year claimed the movie was not inspired by Jab We Met . But why don't you decide for yourself? A bubbly, highly-talkative girl on her way to propose to her boyfriend meets a stranger and shares a hotel room with him. They fall in love, get separated but eventually re-unite and get married.