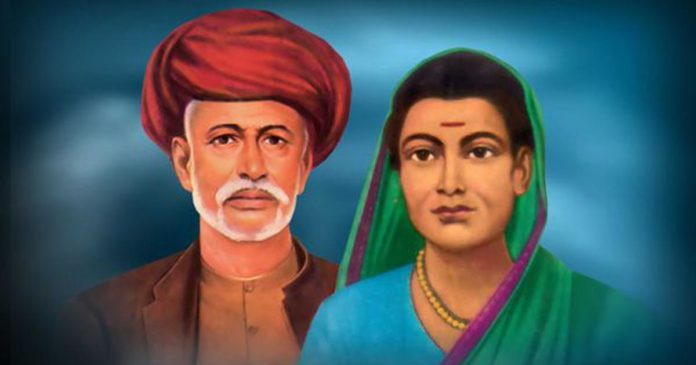 In the 18th century, women were an oppressed lot and no one stood for their rights. Savitribai Phule realized early on that women needed to be educated and emancipated. She dedicated her life to work for and work with women by educating them.
By Prathima.G.Kulkarni
On the occasion of 189th birth anniversary of the great female revolutionary and a teacher, let's remember and pay our tribute to Savitribai Phule. She was born on 3rd January 1831 in the village of Naigaon in Satara District which is in Maharashtra. Her birthplace was about five kilometers from Shirval and about 50 kilometers from Pune. Her parents were Khandoji Navse Patil and Laxmibai who belonged to a low caste or the Shudra community.
Savitribai was born at a time where women were suppressed and met with countless hindrances in every walk of life. The major obstacles to their progress were Child marriage, Caste and gender discrimination, Sati system and widow discrepancy. No girl child those days was allowed to study and was misled by patriarchs who believed anything that they cook would become poison if they went to school. Unlike most women of those days Savitribai defied the tradition of those times. She was always interested in studying and went to boys'schools during their classes. But she was always thrown out, on the grounds that girls had no right to study. This was very discouraging and frustrating for Savitribai.
At the age of 10 years Savitribai Phule was married to Jyotirao Phule who was 13 years old then. Jyotirao learnt that Savitribai was keen in learning.  Instead of getting angry with her for this obsession he presented her with books and encouraged her to study. He even became her first teacher. Later, Savitribai took up education and also did two training programs before becoming a teacher herself. One of her first jobs was at an instituition run by American Missionary, Cynthia Farrar in Ahmedabad and the other was at a normal school in Pune.
One day, Jyotirao saved a girl who was about to commit suicide by jumping into a river. The girl wasn't happy that she was saved instead was sad as she was fed up of the way she was treated by others as she was a widow and pregnant. This got Jyotirao thinking and he could not get her plight out of his mind. Savitribai noticed this and asked her husband what was wrong. To this he said that he was worried about the things a girl has to go through in the society and asked her if she was willing to educate girls as he will not be able to do the same. For this Savitribai agreed happily and thus started her journey as a teacher looking after her students. She went to each and every house explaining the importance of education to the elders of the family.  She met with a lot of resistance, but a few agreed.
It wasn't an easy task as the society was mostly made up of Brahmins and the powerful Peshwas who were against educating women. The Peshwas warned her there would be consequences if she continued her cause and she could be banished from the town. This did not deter Savitribai one bit but made her more resolute in her resolve to teach girls. When she was going to school from her home people used to throw garbage at her, pelt stones at her and used to make fun of her. But she was prepared for such insult as her husband had warned her about the consequences
By the end of 1851, Savitribai and Jyotirao Phule were running three different schools for girls in Pune. Combined, the three schools had approximately one hundred and fifty students enrolled. Like the curriculum, the teaching methods employed by the three schools differed from those used in government schools.
Jyotirao spoke about their work to a Christian Missionary Dnyanodaya on 15 September 1853 saying "It did occur to me that the improvement that comes about in a child from the mother is very important and good. So, those who are concerned with the happiness and welfare of this country should definitely pay attention to the condition of women and make every effort to impart knowledge to them if they want the country to progress. With this thought, I started the school for girls first. But my caste brethren did not like that I was educating girls and my own father threw us out of the house. Nobody was ready to give space for the school nor did we have money to build it".
Supported by her husband, Savitribai was a pioneer in educating girls. Her contribution to the emancipation of women is invaluable.