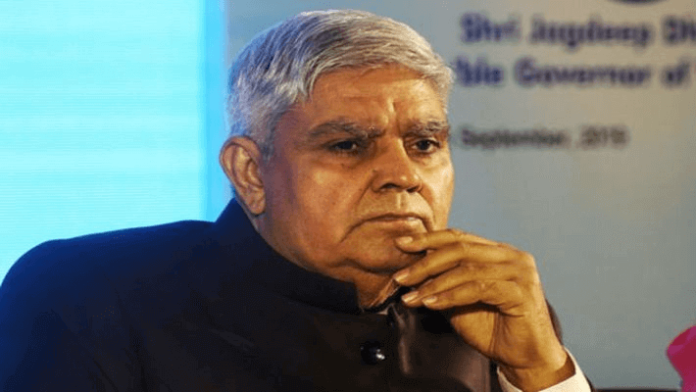 In a first in the state, Bengal Governor to get central security
By Kunal Chatterjee
The centre has lost faith in the ability of the West Bengal government to provide security to the governor.
The ministry of home affairs has decided to provide CRPF protection to Governor Jagdeep Dhankhar at all times.
According to sources at Raj Bhavan last Wednesday, four CRPF officials had visited the Raj Bhavan regarding the issues related to the security of the Governor. Sources in Raj Bhavan stated that previously the Governor was provided 'Z' category security by the Kolkata Police but now the home ministry has decided that at all times four to five CRPF jawans will be there for the security of the Governor, clearly reflecting the fact that the Centre has lost faith in the state security system.
According to CRPF sources, the department has received an order from the ministry of home affairs which is why they had visited Raj Bhavan to discuss security issues. But exactly from when the CRPF will provide security to the Governor will be finalized after one more meeting between Raj Bhavan and central force officials.
Sources at Raj Bhavan stated that the governor's office has sent a letter to Nabanna after the Jadavpur University incident in September as he felt vulnerable but there was no reply from the governments. Instead, the Centre was worried about the security of the constitutional head and decided to provide 'Z' category CRPF security.
Sources said that when Governor Dhankhar had gone to Jadavpur University to rescue Union minister Babul Supriyo, the Governor's car was damaged and thus the car had to be changed.
State BJP president and MP Dilip Ghosh told Eastern Chronicle, "The Governor is the protector of the constitution and what happened to him in Jadavpur University clearly showed that he needs central security. The CM herself had taken central security when she was the railway's minister and also for the first five years of her CM tenure. Thus it is clear that she herself does not trust her own police. I have not asked for central security but I am given because the centre feels the requirement as my car has been attacked several times."
On September 19 Jadavpur University campus had turned into a battleground after students of the university surrounded Union minister of state Babul Supriyo in the afternoon and did not let him leave the campus.
The Governor, who is also the chancellor of the university, had managed to rescue Supriyo on that night from the campus. While Dhankhar could get the Union minister out of the campus, his convoy was stopped for about an hour in front of the university gate with Supriyo onboard. Dhankhar and Supriyo could finally leave the campus later at night.