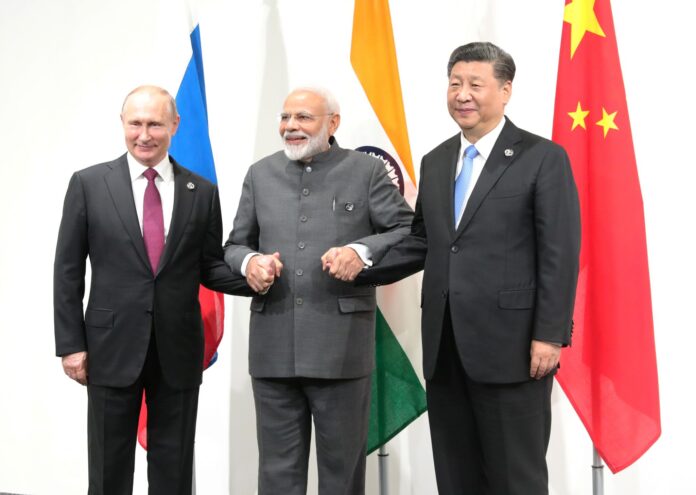 Any attempt towards predicting the emerging world order is more likely to be incorrect. The geopolitical churn is so immense and future so fundamentally incomprehensible that it will be well served to desist from dire prognostications. The era is cause for intense introspection, with geopolitical tensions stemming from several factors, like the US-China rivalry, pandemic, trade wars, military activities and wars, climate change and the like. Five issues need specific consideration.
By Lt Gen (Dr) Rakesh Sharma (Retd.)
First, the years 2020-2022 have been like no other since the Second World War. COVID19 pandemic was an inherently unpredictable black swan event. The pandemic affected almost all countries around the world, with unprecedented number of deaths, and with national responses having been inherently geopolitical, involving issues such as national security, global leadership and international cooperation and competition. The COVID-19 pandemic turned out to be a grave public health crisis, and also a political risk event on a global scale and economic crisis that destabilized and grossly undermined an already weakening (Western) rules-based international system.
Second, in contrast to the unpredictable nature of pandemic, Ukraine war could, in hindsight be said as grey rhino high impact event. The war was probable with NATO's expansion-push towards Ukraine, taken as existential crisis by Russia, the annexation of Crimea in 2014 by Russia and the conflict in Donbas that ensued. Over the past year the world is reeling from disruptions caused by the war in Ukraine, especially of energy, food security, fertilisers, finance, supply chains, inflation, recession and more. The war continues, and the world continues reeling with the disruptions.
As fallout there has been significant enhancement of defence budgets in Europe (especially Germany with announcement of 2% of GDP for defence) Japan and China. In a massive shift from its pacifist constitution and approach, Japan announced a $320 billion plan for a military build-up, the biggest since post-World War II, making Tokyo the world's third-biggest military spender after the US and China. The war in Ukraine has reinforced the notion that conventional wars in multi-domain manifestations are not obsolete. In all probability, it will be the predominate style of warfare that will influence and shape the world over the coming decades.
Third, is the economic war against Russia and its global effects. The Russian invasion of Ukraine triggered unprecedented financial sanctions including the freezing of Russia's official dollar reserves held in the Western countries. Russia is currently the most sanctioned country with 14081 sanctions, with 11327 placed after February 2022. The closest is Iran with 3616 sanctions, followed by Syria, North Korea, Belarus, Myanmar and Venezuela.
This has incited the debate on alternatives to dollar as the global reserve currency, or de-dollarisation! There is an abrupt realisation that official reserve holdings can be exposed to sanctions as about 60% of the global foreign exchange reserves remain in dollars. There are intense deliberations globally on the plausibility of maintaining reserves in commodities like physical gold, strategic reserves of energy and other scarce commodities. Petro-yuan has been recurrently mentioned in the context of Saudi Arabia and China, which will greatly affect the dollar-foundations on which global energy trade rests. It is yet unpredictable if the world can diversify their reserves away from the US dollar and the effect ongoing geopolitical tensions will have, but it could lower foreign demand for US Treasury securities. Obviously even a small reduction in the US dollar share of say China's foreign reserves in the US (approximately $900bn) can have a significant impact on US Treasury yields.
High energy prices, rising inflation, weak consumer sentiment, central banks raising rates and geopolitical tensions are weighing on economies around the world and slowing global growth. Surging energy prices have hit Europe the hardest. In this stretched environment, the collapse of two US Banks, Silicon Valley Bank and Signature Bank, fail to shore up confidence. Even in 2007 and 2008, in the sub-prime crisis, some of the "too-big-to-fail" US banks went under. Anxiety globally on the banking industry is but natural, and is adding on to other woes.
Fourth are the changes in the political environment brought in by the rise of China. Having grandiosely announced the Global Security Initiative (GSI) in 2022, China seems to be on the march as a global mediator. Latest and strongest manifestation is the major diplomatic breakthrough brokered by China between Iran and Saudi Arabia on 10 March 2023, to re-establish diplomatic relations and reopen embassies after seven years of tensions. The deal announced in Beijing amidst the National People's Congress, represents a major diplomatic victory for the Chinese, as Gulf Arab states perceive the United States slowly withdrawing from the wider Middle East. This should lower the chance of armed conflict between the Middle East rivals — both directly and in proxy conflicts around the region, like in Yemen and Syria, though it might be premature to presume it.
China's steady broad based approach in Middle East includes Comprehensive Strategic Partnership Agreement of March 2021 and 2.3 bn loan to Türkiye. Its Shanghai International Port Group has a 25-year management contract of Israel's Haifa Bayport Terminal that began operating in September 2021. A Chinese company also operates a cargo terminal in the Ashdod Port. Chinese Middle East engagement could well transform Saudi-American relations and prospects of Saudi-Israeli normalisation. China is also planning a broader summit between Iran and the six-nation Gulf Cooperation Council later in 2023.
Continuing its push on GSI, China announced a 12-point Peace Plan aimed at Ukraine war. The Academy of Military Sciences had predicted of a cessation of hostilities before autumn of 2023. In the forthcoming visit of President Xi Jinping to Moscow, it could be well-nigh possible that some peace formula has been worked out, brokered by China, even if interim in nature like ceasefire and cessation of hostilities! It is hence apparent that China is slowly and surely usurping the role of conflict mediator in problematic international security situations.
Fifthly, is the rise of China; Chinese recent 'two sessions' have generated many takeaways and overall strategy. There was seeming conciliatory tone on Taiwan, with the importance of normalising exchanges, and promoting national reunification on a fast development track. This is a follow-up to Taiwan's main opposition Kuomintang (KMT) nine-day trip to China, including meetings with some of the Communist Party's highest-ranking officials. This marks the second visit in 12 months by KMT Vice Chairman Andrew Hsia. The KMT spokesperson tellingly said, "The Ukraine-Russian war has taught everyone a lesson: in war there are no winners, but all are losers. It's time for the leadership of both sides across the Taiwan Strait to renew a focus on the bread-and-butter issues facing the post-pandemic world." With favourable electoral results for local bodies in 2018 and 2022, KMT may be looking for a win in Taiwan presidential elections that are due in 2024, a situation that will be to China's advantage, as a step to peaceful reunification.
Militarily, President Xi spoke in the NPC on "more 'quickly' elevating the armed forces to world-class standards," to "bolster military to make it great wall of steel" and that "security is the foundation of development. We must have a comprehensive systematic approach to ensure national security." The increased emphasis on 'security' and 'quickly' elevating the military have ominous portends!
In this polarised world, with a durable global disorder in foreground, China is firming up its lead role. Larger comity of nations is willy-nilly accepting its lead, with respective national interests in consideration. The West with its policies is also not providing global alternatives. In response in the recent months, Japan has decided to double its defence spending and purchase long-range weapons from the US; South Korea has made it clear that stability in the Taiwan Strait is critical for its security; the Philippines has granted the US military new basing rights in the country and is even considering joint patrols of the South China Sea with Australia, Japan, and the US. Japan's Prime Minister, Fumio Kishida, had clearly stated at the 2022 Shangri-La Dialogue global security forum that, "Ukraine today may be East Asia tomorrow!"
As an aside the West, including Japan and Australia, is only 11% of global population. The rest of the world has its own serious anxieties, apprehensions and desires, beyond the Ukraine War! It is however evident that post G20 Bali Summit of 2022, the Presidents of the US and China mentioned trade and cooperation in a warm tone of mutual engagement. Any decoupling hence, or a cold war among such intertwined relations, may be out of question, and largely hype. Similarly, China's largest trade partner is EU (other than ASEAN). China also continues, under BRI, focussed investments in Latin America and Africa, in addition earning influence.
That brings to fore the policy parameters for India, currently the Chair for SCO and G20. With realities of severely polarised world, Indian vision signifies Vasudhaiva Kutumbakam (the world is one family) and strategic autonomy in geopolitics– the latter denoting flexibility and decisional autonomy based upon national aspirations, issues and national interests. Hence, India strategic partnerships and engagements are as diverse and seemingly at cross-purpose, as QUAD, BRICS, RIC and SCO, and the leadership role in Global South. In the tight-rope, India seeks CAATSA waiver from the US to purchase S400 Air Defence systems from Russia! Without foundation of ideology, India undertakes global outreach in supply of vaccines, or undertakes Operation Dost in earthquake struck Türkiye, buys cheap oil from 'sanctioned' Russia, also provides humanitarian aid to Ukraine! Again when need be, there is not so subtle critique of Russia as also support in international fora! The growth of Indian economy is a global bright spot, that allows for the pragmatism.
In sum, however, China's steep military and technological rise, consideration of India as a geopolitical competitor and her growing relationship with the US, increasing assertiveness on its periphery, protracted dispute along the Northern Borders and collusion with Pakistan, has introduced major challenge to India's multi-alignment policy. On the problematic LAC, the current methodology is conflict prevention by establishing buffers, than conflict mitigation and long-term resolution. This systemic, with China's comprehensive power and the 'threat in being', has always the likelihood of escalation, and has to be credibly planned for. Similarly Indian Ocean is increasingly the arena of larger geostrategic competition.
India has her own global standing, a steadily growing economy and military prowess, soft power of merit and important geostrategic location. In matters China, which has intertwined and tied nearly the entire world through trade and economic investments, a rational vision is imperative for India.
There could well be eventualities that Gurudev Rabindranath Tagore prognosticated – To be 'Ekala Chalo Re'!
This article first appeared in www.vifindia.org and it belongs to them.