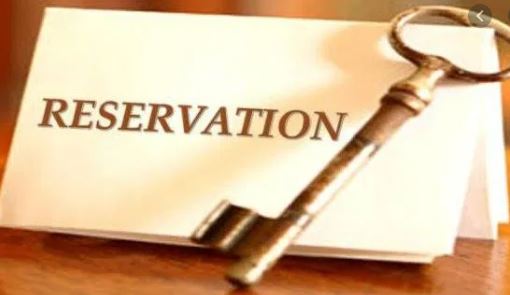 Post Independence, a practice of giving Reservations to the Oppressed Class in Hindu society and to those belonging to Minorities is in practice. The reason for Reservation is to uplift the lifestyle of communities for a specified period. Central and State Governments while extending grants, selecting beneficiaries, selecting jobs, etc., allot some percentage of reservation for the castes of Hindu Dharma whereas the entire community of Muslims and Christians get extended Reservation. It is also common practice that Reservation is not given to the all Hindus as it was given in terms of castes.
By Mahadevayya Karadalli
However, Reservation is the same to all Muslims and Christians. This exhibits an unfair practice and has been continued for the past 7 decades. Due to this, existence of Sub caste within Muslims and Christians is undermined.  
Unfair comparison: 
Print and Electronic Media while broadcasting election result analysis broadcast caste-wise percentage of votes gained by political parties within Hindus. Whereas in the case of Muslims and Christians percentage, a voting share will be  
Calculated as Muslim and Christian religion as a whole. Due to this sub-castes within Muslims and Christians can dictate terms with political parties as Hindu castes are doing. Muslim and Christian subcastes do not have Gurus or pressure groups as in the case of Hindu castes. As a result, their community development takes a back seat to become a standstill   
Minority Religion has also have sub castes as in the case of Hindus
Further, Muslim Religion has numerous sub-castes. Among them, Shia and Sunni castes have good numbers of followers and are also powerful castes of the Muslim religion. World has 90% Sunnis, whereas India, Iraq, Iran, and Pakistan have 
70-80% Shia followers. Further, Caste 
Sunni has Hanifi, Maliki, Shafi Jahiri. 
Karnataka State Backward Commission has recognized some more Muslim sub-castes. Apart from Sunni and Shia, Shekh, Pathan, Nalaband, Pinjara, Hallal Khor, and code. Some castes are without code also viz. Siddi Muslim, Maniyar, Dawoodi bohras, Kasab, lddaf, Dood Kela, jamma pille, Kodava mapille are also part of Muslim religion. Apart from Hindus who converted to Muslims continued to retain their original caste and they form a caste. 
Christian Religion has identified about 20 sub-castes like Catholic, Methodist, Protestant, Anglican Baptist, Orthodox, Lutheran, Pentecostal, Prebestarian, United Church of Canada, Converted Syrian Christian, CSI, Marthoma, Jacobyte, etc., Apart that Hindus who converted to Christianity continued to retain their original caste and they form a caste group. And getting grants, and benefits given to SC/ST and Backward. Hence, whatever facilities are given by Government, are utilized by the majority castes within Minority Religion. 
Let Government and Media give the correct picture of statics
Media either print or electronic media give justice to neglected subcastes in Minority religions by providing a percentage of statistics as in the case of Hindu subcastes. So that these subcastes can demand their share as 
Reservation within reservation as in the case of Hindu castes and sub-castes. 
Give force to community development in a changed environment. 
In recent years, It is noteworthy to consider the change of attitude & mentality (i e accepting the change, accepting the development) 
Occurred in Muslim and Christian communities. This change is from well within the small sub-castes of Minority Religions. So, they voted for BJP, where BJP can form a government. It is crystal clear that sub-castes within Minorities are 
Extending their support to state and central administration and its development agenda. Now, BJP-ruled states including Jammu and Kashmir, Northeastern states are free from communal violence. Enlightened Muslims formed Rashtriya Muslim Manch a forum to discuss development issues in tune with Government policies. Slowly Youths of the majority castes within the Minority Religion are rethinking supporting non-BJP parties. The opposition used Minorities' care to win the election by making them their vote bank. 
All these years their future was blocked due to non-joining hands with national mainstream forces. Youths of Minorities distancing themselves from terrorism, and separatist forces. And especially Muslims and Christian youths turned their deaf year towards false propaganda of opposition. 
Hence, it is high time to consider giving reservations within reservation given to minorities to hear the voice of depressed subcastes. Let Central Government and State Governments extend their helping hand directly to depressed castes within Minority Religions. Let the people get a new ray of hope for development. Let these people join their hands in National building activities.