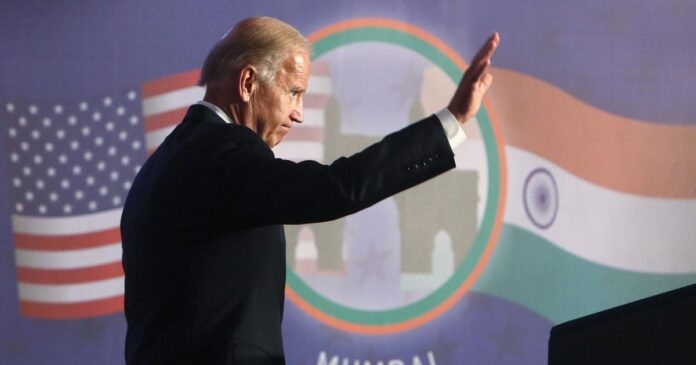 US President elect, Joe Biden has a challenging time ahead especially over the next few weeks when he may be called upon to prove the legitimacy of his election. While he has both the electoral college votes and the popular vote in the just-concluded election, incumbent Donald Trump refuses to accept the verdict and has mounted a series of legal cases in the swing states that saw a large number of votes being cast via postal ballots. The fiercely contested election has seen a record turnout and witnessed a series of very close and nails biting contests across the battleground states.
By Dr Harinder Sekhon
Joe Biden will be sworn in as the 46th President of the United States of America on January 20, 2021and the job ahead is not easy as racial polarisation is at its height in the pandemic afflicted nation. With nearly 10 million cases and 250,000 deaths, the US has been the hardest hit by the COVID 19 pandemic, its economy severely impacted with over 20 million jobs lost and manufacturing derailed. While domestic compulsions and priorities will take up much of his time, as still the world's leading power both in the military and economic domains and a global security guarantor for much of the world, the US election naturally garners much global attention. India is no exception.
The India-US relationship has been on a steady upward trajectory over the past two decades, enjoying bipartisan support among both the Democrats and Republicans. India has done quite well with an unpredictable and transactional Trump over the past four years that saw massive gains in the defence and strategic partnership; it can be easily said that these foreign policy trend lines would broadly be adhered to under Biden Presidency as most of the ongoing American initiatives are the legacy of Obama administration when Biden was Vice President. Joe Biden is also known for initiating India specific legislation that enabled the passage of the US-India Civil Nuclear Cooperation Bill in the US House. At that time he was Chair of the US Senate Foreign Relations Committee.
It was Biden's campaign promise his campaign that once elected one of the first things he would do is "get on the phone with the heads of state and say, 'America's back, you can depend on us'."  Joe Biden has spoken about returning to the liberal multilateralism In his speeches he has talked of a return to the liberal multilateralism as was being done under the Obama administration, with an emphasis on rebuilding alliances especially with Europe and in East Asia as he feels that long-standing traditional allies in these two regions have had to bear the brunt of Trump's abrasiveness. In the multilateral global domain, "climate change, nuclear proliferation, great power aggression, transnational terrorism, cyber warfare, disruptive new technologies, mass migration" would garner attention of the new administration "as none of them can be resolved by the United States, or any nation, acting alone," Joe Biden observed in a foreign policy speech of 2019.
As for as India is concerned India, there are three main aspects of to our bilateral relations with the US: political, economic and military. At the political level, the main political challenge for India and the U.S. would be to deal with an assertive and aggressive China. China's overbearing posture has been developing for a few years, has now taken a particular turn that causes unease globally. Both the United States and India realise that a key element of their Indo Pacific strategy would be to ensure that China plays by the rules. But that seems unlikely. China is exhibiting its assertiveness not just towards India, but also within the Pacific region with Vietnam and other South China Sea claimant countries, economically with Australia et al, and territorially with Taiwan. As was during 2008 economic downturn, China is using the COVID-19 pandemic turmoil to take advantage of the global situation. Biden has said that "America has to get tough with China," through a system of forging a joint front of "U.S. allies and partners to confront China's abusive behaviours and human rights violations," while at the same time looking for China's cooperation on climate change and North Korea. However, Biden's views on China's transgressions on India's land borders have not been articulated as yet in the manner as those of the Trump administration.
This similarity of interests will make sure that the cooperation on the Indo Pacific will continue and deepen in some ways. The US Congress has created its own architecture for the US to work in the Indo Pacific. Initial American engagement was limited to South-East Asian countries but now this has extended to countries in India's neighbourhood. The 'Pacific deterrence' initiative in the region suggested by the US Congress will help partners/allies in the Indo Pacific to stand up to China. When and if such an initiative is operationalised (and it is more likely that it will be), it would be another notable step towards fructifying the US' role in the Indo Pacific.
The 2+2 dialogue mechanism provides the platform for cooperation in the Indo Pacific. India and the U.S. are major defence partners and have signed a number of agreements facilitating defence cooperation. BECA and COMCASA agreements are significant enablers of real time intelligence sharing and exchanging information on military deployments. While this has primarily helped the Indian Navy but other services have also benefitted.
Thus sharing of common perceptions on security issues across the Indo-Pacific would lead to strengthening and deepening of the QUAD mechanism to include global issues such as cyber security, counter terrorism, humanitarian aid and disaster relief (HADR) operations.
In the economic domain, the US will continue to remain the largest investor and trading partner in the Indo-Pacific and will take steps to counter China's BRI initiative. The United States has traditionally done its work through organisations such as USAID, but now it also works through organisations such as 'Millennium Challenge Corporation' and the 'US International Development Finance Corporation'. The recently launched 'Blue Dot Network' is likely to see greater participation by the US in this vitally important region. This expands the scope for India and the United States to deepen their cooperation in the Indo-Pacific through building a network of environmental standards, conducting due diligence and ensuring no political interference. India is also calling out China over its attempts at not following certain standards. Once the Blue Dot Network finds greater acceptance and becomes operational, there could be greater synergy among the democracies to collectively confront global challenges.
In the bilateral domain, as Vice President of the United States, US President elect, Joe Biden believed India-US partnership to be the defining relationship of the 21st century and generally subscribed to the view that India and the US are natural allies. Besides the strategic partnership, he will definitely also work towards strengthening the scope of bilateral trade to realise his seven year old vision of taking the bilateral trade to USD 500 billion, which is today a little over $150 billion. India should be prepared to encounter frictions that seem to have become integral in trade relations between the two countries. The Democrats, on the whole tend to be more protectionist with a tendency to seek greater market access in retail, banking and insurance. As the new US administration tries to revive a battered US economy, it will remain focused on its vision of 'Making America Great again.' The challenge for India would be to work in a manner to find common ground with this American vision and its own concept of 'Make in India'.
Fortunately, there are also indications that the incoming Biden administration would be less transactional than the Trump administration and would try to avoid tariff wars in an attempt to build consensus on larger global issues.
On the whole, there will be steady, incremental progress in the overall state of India-US partnership but there is no place for complacency. Both will have to overcome hurdles and find common ground to move the economic and strategic agenda forward as they seek to revive their respective economies and try to heal the social fabric that has been further exacerbated by COVID 19.
This article first appeared in www.vifindia.org and it belongs to them. The author is a research associate with VIF.