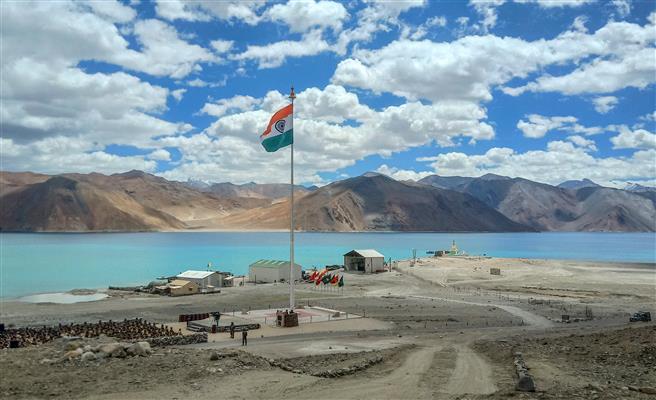 China clearly perceives India to be the only possible challenger in the neighbourhood which can checkmate its unbridled rise. It also accuses India of siding with the US and trying to checkmate it at the global level.
By Sant Kumar Sharma
The first shots have been fired in the escalation on Line of Control (LAC) with China in Ladakh. Even if they have led to no casualties, fatal or otherwise, the event is very significant. This means further escalation on LAC and India hardening its defences and posture against continued show of aggression by the Chinese.
A press release from the Indian army denied that its troops fired any shots. It said the People's Liberation Army (PLA) troops fired some shots late on Monday evening. No casualties have been reported on either side and diametrically opposite versions of what actually happened has been given by the Indian and Chinese sides.
Let us try to put it in perspective by recalling the Galwan valley incidents here as that may help. In Galwan clashes, of June 15, the Indian side had lost the lives of 20 of its soldiers, including a Colonel. An unspecified number of casualties were suffered by the adversary also. Yet, utmost restraint was at display as neither side fired a shot, despite the availability of firearms on both sides.
We perhaps need to delve deeper into the genesis of this apparent animosity between the two Himalayan neighbours. Let us accept without reserve that China is the numero uno in Asia, and has ambitions to become so worldwide. We need to stress here that we are the second most powerful country in China's neighborhood and occupy the second position in Asia without any doubt.
In this scenario, all Chinese plans were going ahead full steam under Li Xinping for some years. However, India backing off from any participation is some big ticket ideas of Xinping was not to his liking. All seemed to be smooth sailing for China, in spite of some hiccups, till US started a trade war with China some years ago.
Incidentally, China clearly perceives India to be the only possible challenger in the neighbourhood which can checkmate its unbridled rise. It also accuses India of siding with the US and trying to checkmate it at the global level. Very true but ironically this is equally true that China itself has pushed us in the US embrace. The delicate balancing between the US and Chinese interests by India seems like an old unrealistic plan today.
The overbearing expansionism that marked China's rise has meant it ignoring the settlement of LAC with India for several decades. After 1962, it preyed on the Indian territories left, right and centre. In the name of "unsettled LAC", hiding behind that fig leaf, India kept on conceding more territory. Till it did a volte face during 2017 Doklam imbroglio when it stood firm against the Chinese attempt at grab and hold.
Before that, China had successfully captured some Indian territory in Depsang plains in summer of 2013. Foreign Minister Salman Khurshid of the UPA II had then tried to push it under the carpet and away from public scrutiny. In 2014, it aimed for Chumar in Ladakh, instead of Depsang plains, and we largely acquiseced.
In 2020, it opened multiple fronts at Depsang, Pangong lake, Galwan, Goghra and Hot Springs, besides pushing in Tibetan nomads in some areas where traditionally Ladakhi highlanders grazed their cattle earlier. All this, and more, was apparently done because China seems to think that LAC is the major leverage it has against India.
Here it may have overplayed its hand and failed in making a proper assessment of both, the political resolve and military capabilities of India. Small, but significant, punitive actions outside the military domain has been the Indian answer to the Chinese actions. Banning 224 Chinese Apps, checking further investments in the Indian economy, ouster of a Chinese firm from a railway contract, banning Huawei, ZTE from telecom sector add up to a lot.
On the face of it, China does talk of de-escalation and disengagement along LAC but these claims don't appear to be sincere. It is used to following a policy of "Two Steps Forward, One Step Back" and thus gaining territory by coercion and deceit. Without firing any shots, without fighting any bloody ears with neighbours, it has gobbled them up.
After the meeting of Indian Defence Minister Rajnath Singh in Moscow with his Chinese counterpart, a long opinion piece appeared in Global Times. It says: "Territory is important, but only if China or India "beats" the other (these are two nuclear states), otherwise the status quo will be maintained. It is surely better for both countries and their people to maintain the status quo by peaceful means than to return to it after a brutal fight."
Let us see how things get resolved, if they do at all, in the days, weeks, months and years between China and India. Of course, Pakistan getting involved in any flare-up with China is a distinct possibility. Two-front war is a real threat India has to deal with in the evolving situation.
Right now, it seems that we are in for a long haul and deployment of additional troops all along LAC coming winter, all the way from Ladakh to Aruba Pradesh. Will the Indian and Chinese Foreign Ministers be able to redress one another's concerns? We have no clear answers to that in the evolving situation.
Article Courtesy : JK Now