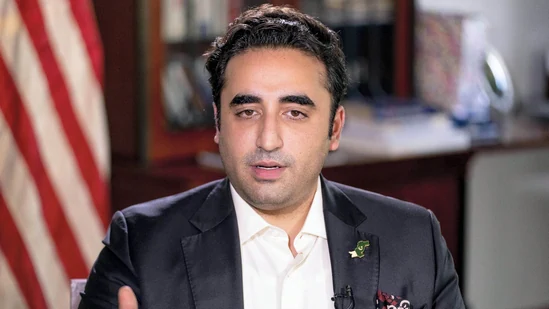 Pakistani Foreign Minister Bilawal Bhutto Zardari in his outburst against India at the UN Security Council mentioned that Osama Bin Laden is dead. He forgot to mention that Osama died after enjoying a safe haven in Pakistan for a decade. Earlier, the Al Qaeda leader was hosted in Afghanistan by the Taliban, who were a creation of the Benazir Bhutto government. Their mentor was Lt. General Nasrullah Khan, Interior Minister in her government; the cadres were provided by Madrassas run by Jamaite Ulema -e-Islam i.e. JUI (F) leader Maulana Fazlur Rehman. JUI was an alliance partner of the PPP. 
By Amb D P Srivastava
The External Affairs Minister Dr. S. Jaishankar gave a pithy reply to Bilawal Bhutto's uncivilized comments on our Prime Minister at the United Nations. He recalled Hillary Clinton's famous remark on a visit to Pakistan "You can't keep snakes in your backyard and expect them only to bite your neighbours." EAM added 'Eventually they will bite the people who keep them in the backyard.'
It will be worth recalling Pakistan's record of encouraging terrorism and violating minority rights. Zulfikar Ali Bhutto gave 'shabashi' (felicitation) to the hijackers of Indian airlines plane Ganga at the Lahore airport in 1971. Later, Pakistan distanced itself from the incident. The Bhutto family presents a liberal face to the West. At home, it has followed different policies. It was under Bhutto's government that Ahmediyas were declared non-Muslims. While Zia is blamed for Pakistan's lurch towards Islamisation, the trend was begun by Bhutto. The 1973 Constitution made the Objectives resolution part of the constitution. This was a blueprint for the Islamisation of Pakistan's polity. Originally, adopted during Liaquat Ali Khan, the resolution hitherto did not have legal force. Bhutto did not have any domestic political compulsions to cater to the religious lobby in 1973 when he was at the peak of his power. The anti-Ahmediya movement began later around 1974.
There have been 26 amendments to Pakistan's constitution since 1973. During this period, Benazir Bhutto headed the Pakistani government twice. A PPP government completed five years term between 2008-2013. No political party or military ruler has tried to reverse the damaging effect of the law declaring Ahmediyas as non-Muslim. Indeed, the discrimination against minorities has deepened with the adoption of the blasphemy laws and the establishment of the Shariat Court.
While the media perception is focused on the Ahmadiya issue, there was a bigger tragedy. Ahmadiyas were considered a sect of Islam at least till the 60s in Pakistan itself. There was a non-Muslim minority which was much bigger in numbers, which has been forced out. The Bhutto family's base is in Sind. According to the last census of the province under the British, Muslims were 'about three-quarters of the population'. By inference, about 25% of the population were minorities. The Hindus are now 8.73 % of Sind's population. Overall minorities are less than 3 % of Pakistan's population. This is ethnic cleansing on a massive scale much before the term was coined.
Bilawal Bhutto in his speech at the UN Security Council session criticized India for not implementing the UN Security Council resolution on Kashmir. It is Pakistan, which has violated the UN resolution by refusing to vacate the territory illegally occupied by it. Part II of the UNCIP resolution of August 1948 clearly states 'As the presence of troops of Pakistan in the territory of the State of Jammu and Kashmir constitutes a material change in the situation', 'the Government of Pakistan agrees to withdraw its troops from that State'. This was not simply a UN demand; Pakistan had also agreed to withdraw its troops. It has still not fulfilled its commitment. Instead, it has consolidated its hold over that territory. Pakistani withdrawal was the essential pre-condition for holding the plebiscite.
Refusal to vacate the territory illegally occupied by it was not the only violation of the UN resolution by Pakistan. It separated Northern Areas under the Karachi Agreement of 1949 and brought it under its direct administration. This was kept secret till it was brought to light in a historic judgment of the POK High Court in 1949. The High Court said:
''..that detachment of Northern Areas from the rest of Azad Jammu and Kashmir tantamounts to violations of the Resolutions of the Security Council of March 30, 1951, and January 24, 1957".
Karachi Agreement was kept secret because Pakistan had changed the territorial status quo of the territory without a plebiscite.
Pakistan has not only violated resolutions on J&K, but it also violated UN Security Council resolutions on Afghanistan by providing a safe haven to senior al Qaeda leaders. Osama Bin Laden was not the only Al Qaeda leader who was found living in Pakistan. Al Qaeda leader Mullah Omar also died in Pakistan. He had originally come from Karachi where he preached at the Binnauri mosque. Quetta Shura functioned from Balochistan capital after the Taliban were displaced from Afghanistan.
Under Bilawal Bhutto, PPP's fortunes have kept sinking. In the 2008 elections, PPP mustered 30.77 % votes with 116 seats in the National Assembly. It also gave a respectable performance in the provinces. It secured 70 out of 130 seats in Sindh Assembly thus obtaining a clear majority. It finished second in Punjab with 81 seats. It also came second in NWFP with 17 seats and became a partner in the ANP-led government. It secured 7 seats in Balochistan. Though it remains in power in Sindh, its nationwide footprints have shrunk. Even in Sindh, it has at best a marginal presence in urban constituencies where PTI and MQM dominate. It is increasingly looking like a regional party. This may explain Bilawal's desperation to court popularity by making strident statements against India and Indian leaders.
Recently, Pakistan's Deputy Foreign Minister Hena Rabbani Khar visited Kabul, where she was rebuffed by the senior Taliban leadership. Khar described Taliban leaders as 'monster' in an interview with Al Jazeera. She admitted that Pakistan was involved in creating the 'monster', though tried to spread the blame by naming the US as well. She also proudly claimed that Pakistan has learned from its mistakes and Pakistan of today is different from the Pakistan of 2021. This was obviously a barb directed at Imran Khan's regime. She added that she could go back to 1996. Though she did not bring out the significance of this year, this was the year when the Taliban reached the gates of Kabul. Benazir Bhutto was in power in Islamabad. As mentioned earlier, her Interior Minister Lt. General Nasrullah Khan had played a pivotal role in creating the Taliban movement. The ongoing clashes between Pakistan's security forces in Bannu are a testament to the instability created by Pakistan on both sides of its border.
There has also been an attack on Iranian border guards by Pakistan-based terrorists. According to a report in Tehran Times, 'In a statement on Monday, the IRGC said its provincial forces in the border region of Saravan clashed with members of a terrorist group that fled into Pakistan as a result of heavy fire from the IRGC.' According to the Iranian news agency IRNA, four Iranians died in the clash. Pakistan's Foreign Minister, Bilawal Bhutto has to do a lot of explaining.
This article first appeared in www.vifindia.org and it belongs to them.