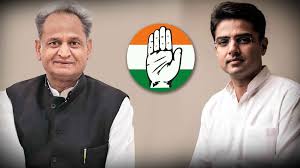 The Congress government in Rajasthan has left its workers disenchanted and disillusioned as they have started questioning their commitment to the state and it people.
By Anil Sharma
Within a short span of over a year since the Congress which came to power in the desert state of Rajasthan the government is now facing the annoyance of the party workers. They have become disenchanted with both the party organization and the government.
The party workers are disillusioned, they are wondering and asking whether it is the same people or party for whom they had sweated it out to bring it to power in the state.
If these workers are to be believed then except for the chief minister Ashok Gehlot only a few other ministers in his Cabinet are listening to their grievances and problems.
In fact, party workers are really unhappy with the treatment being meted out to them. Some of the ministers, they say, are not showing any respect to party workers and most ministers are not even ready to pay attention to the demands of these workers.
A general complaint by party workers is that some of the ministers in the Gehlot government have become arrogant, put on an attitude and don't even listen to them, in spite of the fact that at time of assembly polls the then president of the Congress Rahul Gandhi in his public speeches had said that all the leaders in the party would be easily approachable to the general public and their doors would always be open for the party workers. Forget common man, party workers are running from pillar to post to get their work done, but to no avail.
"I can count the ministers who are approachable on my fingers; otherwise no one is answering either calls or text messages. Reason-they have become arrogant," said a Congress worker on condition of anonymity.
This attitude of the ministers are forcing some of the workers to resign, the others are planning to launch hulla bol against their own government. "We are just waiting for the panchayat and local body polls to end, after which we plan to launch hulla bol against our own government and then complain first to the chief minister Ashok Gehlot, AICC general secretary and the person in charge of Rajasthan congress Avinash Pande and if nothing happens after that we will take our fight to the next level and meet Sonia and Rahul Gandhi in Delhi," a party worker said.
"We understand that Ashok Gehlot being CM cannot give us time on a daily basis, he is a busy person but still he tries to meet us whenever he can…why can't others follow his footsteps?" he asked.
A leading farmer leader and Pradesh Mahasachiv (general secretary) Kisan Congress, Rajasthan, Balkaur Singh Dhillon recently quit from the party. In a letter addressed to the state president of the Congress Sachin Pilot, Dhillon said, "It has been around one and a half years since Congress government was formed in the state, no work of the party workers are being done."
"We have been demanding the appointment of a Gynecologist in a government hospital in Sangaria for the last over a year, but no one has cared to listen to our demand. We demanded the construction and up-gradation of roads, but nothing has happened so far. When the government fails to listen even to its own party workers then there is no point in continuing in the party," he said.
His views and opinion has also been echoed by many other party workers.
Though a coordination committee has been set up by the Congress high command few months back in Rajasthan with AICC general secretary Avinash Pande who is also in charge of Rajasthan to coordinate between the organisation and the government, it has failed to act as a bridge between the government and the party workers who still are disturbed and angry.