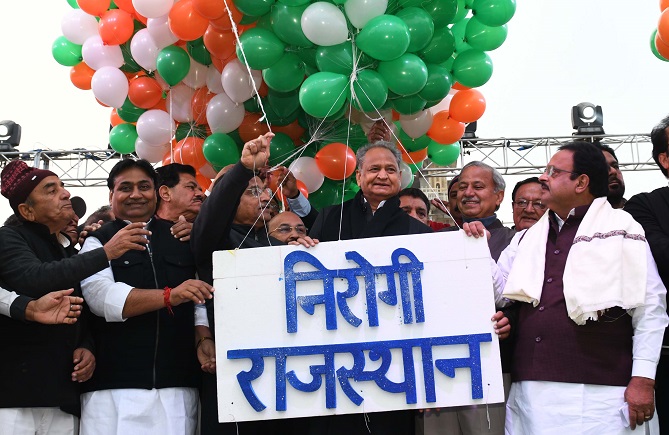 Nirogi, Rajasthan government's ambitious program to provide healthcare for all fails to deliver and ends up mostly as a publicity stunt.
By Anil Sharma
The Congress government in Rajasthan  launched with much fanfare its healthcare programme Nirogi Rajasthan campaign in the state. It looks very good on paper, but it is not more than an advocacy plan and its chances of becoming successful look bleak .
The campaign has failed to take healthcare to retired government employees who are still not getting medicines prescribed by the doctors. They are running from one store of cooperative department to another to get their medicines free of cost. But to no avail.
In Rajasthan retired government employees have a facility to get medicines, mostly branded, prescribed by doctors of a designated hospital, free of cost at a medical store run by cooperative department. However, for the last few months these retired employees, some of whom are in late 70's and 80's can be seen waiting at these medicine outlets for hours in long queues to get the medicines prescribed by doctors, only to be told they are not available.
The reason behind the stores not being able to provide medicines is the lack of budget and finances. If sources are to be believed then the state government has to provide over Rs 150 crores to run the scheme effectively again and the so called "sensitive" Ashok Gehlot government is failing to take care of its senior citizens, the citizens who have given their services to the state government for years before retiring.
Now what is this Nirogi Rajasthan campaign ? According to the state government it is a step towards a healthy Rajasthan. The state government is supposed to be working on this initiative to ensure that everybody in the state stays healthy without falling sick.
Prior to the launch of this programme, Ashok Gehlot, the chief minister of the state had proclaimed that the dream of a healthy Rajasthan would come true soon and Rajasthan would be a leader in the entire country in the field of health.
Gehlot had said that the awareness campaign was aimed at addressing all kinds of health-related problems of the common people. During this, health check-up would be conducted on the majority of the population for diagnosing various diseases. It looked superb on paper, but where were the funds? The state government has not been able to give increased DA of 5 percent to its employees which was announced by the Central government in October and was effective from July 2019.
The Chief Minister had said that population control, old-age health problems, women and adolescent health issues, drug addiction, communicable diseases, non-communicable diseases and vaccination were the major focus areas of the campaign along with preventive healthcare, lifestyle problems and diseases caused by environment pollution.
He had also said that efforts would be made to spread awareness among the masses on how to prevent various diseases by adopting healthy lifestyle.  But what finally happened was that the scheme turned out to be nothing more than an advocacy campaign or a publicity stunt.
Gehlot had also said that special intensive action would be initiated in the entire state to prevent adulteration in food items, identify the persons doing adulteration and take strict action against such perpetrators.
But the question remains. When you are not able to provide medicines free of cost to your retired employees, how can you hope to do all this? When you can not pay increased DA to your employees how can you think of providing all the things mentioned in the campaign to the residents in the state?It's really a million dollar question.