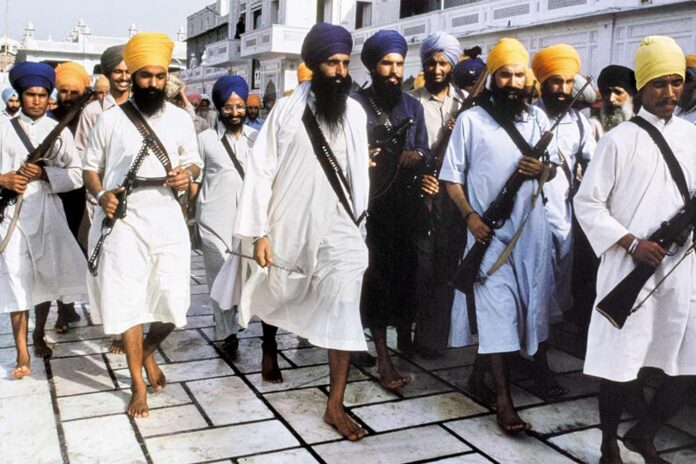 The emergence of violence and targeted killings in Punjab raises widespread concerns about a recurrence of the terrible period of the 1980s when a Pakistan-sponsored insurgency in the form of the Khalistan movement wreaked havoc on the State and caused enormous misery to the people. In recent years, the 'Sikh For Justice' (SFJ), with the assistance of Pakistan's Inter-Service Intelligence (ISI) Directorate, has exploited the fragile law and order situation under the ruling State government, not only in Punjab but also among the Sikh Diaspora worldwide. 
By Anurag Sharma
Punjab's law and order situation provides an opportunity for pro-Khalistan terrorists such as Amritpal Singh, Gurpatwant Singh Pannu and his SFJ organisation, Simranjit Singh Mann, as well as many others, who are being funded to keep the pot boiling in Punjab.
ਹਿੰਦੂ ਤੁਰਕ ਕੋਊ ਰਾਫਜੀ ਇਮਾਮ ਸਾਫੀ, ਮਾਨਸ ਕੀ ਜਾਤਿ ਸਬੈ ਏਕੈ ਪਹਿਚਾਨਬੋ ॥
[Quote bySri Guru Gobind Singh Ji Maharaj, Tenth Sikh Guru]
[English translation: "Someone is Hindu and someone a Muslim, then someone is Shia, and someone a Sunni, Recognise the whole of Human race as One."]
Amritpal Singh Sandhu, commonly known as Amritpal Singh, appeared as a 'pious' Sikh, dressed in a white Chola and navy-blue turban, carrying a sword-size Kirpan (traditional Sikh dagger) at his ancestral home in Jallupur Khera in Amritsar, Punjab. In a Dastarbandi (turban tying) ceremony on 29 September 2022, Amritpal Singh was announced as the Head of Waris Punjab De (Heirs of Punjab)— a faction formed by late Punjabi actor and pro-Khalistan activist— Deep Sidhu in 2021. It was not an ordinary Dastarbandi ceremony but had significance related to the Khalistan movement in the 1980s. The ceremony occurred in Rode village of Moga district, the ancestral place of the prominent figure and slain terrorist of the Khalistan insurgency in Punjab— Jarnail Singh Brar, popularly known as Jarnail Singh Bhindranwale. The Dastarbandi event was announced and resonated in most areas in north Bharat, including Punjab, Delhi, Haryana, and Rajasthan.
From Dubai to 'Waris Punjab De'
Born in 1993 in a Jat Sikh family in Jallupur Khera village of Baba Bakala tehsil in Amritsar district, Punjab, Amritpal Singh was not so famous and known in Punjab until 2020 Farmers' protests in Delhi/NCR, Punjab, and Haryana. According to various news reports about Amritpal Singh, he returned to Punjab in August 2022 after leaving an established family transportation business in Dubai, United Arab Emirates (UAE). Upon returning from Dubai, UAE, Amritpal Singh emerged as the mouthpiece for Khalistan propaganda and declared himself as the Head of the Waris Punjab De (Heirs of Punjab).
However, his legitimacy over the Waris Punjab De is questionable as there was no connection between Amritpal and the former Head and founder of Waris Punjab De— Deep Sidhu. Despite being criticised and having divided public opinion around him, Amritpal Singh is a popular icon among the youth of Punjab involved in drugs' trade and networks of the organised crime. His messages of cultural pride, campaigns against drugs, and spiritualism seem like a light in a dark tunnel towards the revival of Sikhi or Sikhism in Punjab.
Styling of Bhindranwale & Participation in Disturbances
On several occasions, Amritpal Singh explicitly supported the cause of Khalistan through his speeches and continues to do so. Speaking about the geopolitical benefits of a separate land for the Sikh faith— Khalistan, Amritpal Singh reiterated that the "agenda of Khalistan shall not be seen as evil or taboo but from an intellectual point of view. Khalistan is an ideology, and ideology never dies."  In one of the audio/videos on social media platforms, Instagram, Amritpal Singh said that youth in every house in Punjab demands Khalistan, and nothing can stop us from attaining it. Recalling the statements issued by Jarnail Singh Bhindranwale against the Indian government, Amritpal Singh threatened Minister of Home Affairs (MHA)— Amit Shah by saying that "he [Amit Shah] will meet the same fate as Indira Gandhi (former Indian Prime Minister) whom her Sikh bodyguards assassinated in 1984."
Matching the looks and style, Amritpal Singh claimed to follow Bhindranwale and glorify the latter as Sant or Saint. He physically resembles Bhindranwale and moves around with armed men, including Nihangs or armed Sikh warriors. In his time, Bhindranwale was the renowned preacher and Head of Damdami Taksal, whereas Amritpal is merely a 10th-grade pass in academics and was a clean-shaven or 'cut-Sikh' until his arrival to Bharat. Despite these differences between both, being a Jat Sikh (as Bhindranwale), Amritpal's followers hail him as a 'Bhindranwale 2.0'.
In early October 2022, Amritpal Singh addressed a massive gathering in Behbal Kalan village in Faridkot district on the 07th anniversary of the Behbal Kalan protests. Along with Amritpal Singh, the stage was shared by Sikh leaders, including Simranjit Singh Mann— Member of Parliament (MP) for Shiromani Akali Dal (SAD) from Sangrur. In Punjabi, Amritpal Singh accused the Government of India of marginalising Sikhs and claimed that the Khalsa or Sikh community is above the State and the only protector of Sikhi (Sikh religion). "Sikhs have been slaves for 150 years. We have developed a slave mentality. First, we were slaves to the British, and now we are slaves to the Hindus. The only way we can be totally free is when we have Sikh rule," said Amritpal Singh while addressing the gathering in Faridkot.
Amritpal Singh is apparently not directly involved in violent activity; however, his speeches influenced others to take up violent activities. On 04 November 2022, Sudhir Suri— a Shiv Sena (Taksali) leader, was shot dead outside a temple on Majithia road in Amritsar. Reportedly, the perpetrator was identified as Sandeep Singh, a 'self-radicalised' individual under the influence of the 'false notion' of the Khalistan, which Amritpal Singh is propagating. The investigation revealed that Sandeep Singh and his son met Amritpal Singh on 29 October 2022 in Amritsar. On 09 and 13 December 2022, Amritpal Singh's supporters vandalised two Gurudwara's in Biharipura in Kapurthala and Jalandhar districts, respectively. The sofas and sitting chairs in both gurudwaras were burnt with an argument that it is a sacrilege to pray while sitting at the level of the Sri Guru Granth Sahib.
In early February 2023, one of Amritpal's close aide— Varinder Singh, filed a complaint of kidnapping, theft and violence against Amritpal and six other associates. Following the FIR (First Information Report) against seven accused, police arrested Lovepreet Singh, aka Toofan, on 23 February 2023. After a few hours of the arrest, thousands of Amritpal's supporters, armed with automatic guns and sharp-edged swords, broke the police barricades and attacked the Ajnala Police Station in the Amritsar district. While attacking the police station, the attackers carried a copy of Sikh's holy book Sri Guru Granth Sahib in a truck. Several police personnel were injured during the clash with the attackers. According to Senior Superintendent of Police (SSP)— Satinder Singh, "the police could not retaliate because the supporters of Amritpal Singh were carrying the Sri Guru Granth Sahib." On the Court orders based on an application made by Ajnala police, on 24 February 2023, Lovepreet Singh was released from Amritsar Central Jail.
Pakistan ISI's Connection
Interestingly, Amritpal never quoted anything from the Holy Scriptures of Sikhism in his speeches but talked about the sacrifices made by the Sikh gurus during the Mughal era. He has been calling upon Sikh youths to follow the Shahidi or sacrifices made by Sikh Gurus to attain so-called 'freedom'. The so-called term freedom or Azaadi from Bharat has been the main agenda of Pakistan-sponsored terrorism in Kashmir valley; the similarity of tone occurring in Khalistan propaganda appears to be the signature of Pakistan's Inter-Services Intelligence (ISI) Directorate. Although no concrete evidence is available publicly, ISI's role in training Amritpal and his 'out-of-the-blue' emergence cannot be ruled out.
Along with State oppression, Amritpal has focussed on social issues, such as drug proliferation, sacrilege cases, and environmental degradation, in his sermons. In the Internet age, his speeches quickly spread out on social media platforms, including Instagram, Facebook, and Twitter; such interventions are only possible by professionals. Giving an apparent reference to Pakistan's involvement in Punjab, former Chief Minister Captain Amarinder Singh said, "People of Punjab want to know who are the forces behind this youth, who had recently moved to Punjab from Dubai. It is the duty and responsibility of the state government to confront such forces and their activities."  Apart from the political party— Shiromani Akali Dal (SAD)-Amritsar, all political parties and the Ministry of Home Affairs (MHA) had urged the State Government to keep a check on Amritpal's activities.
The Situation, Projection & Counter-Measures
On 14 March 2023, Amritpal Singh recalled the former aide of Bhindranwale— (Maj Gen) Shabeg Singh while addressing the gathering held to mark 200 years of Akali Baba Phula Singh's death. Amritpal Singh urged the youth to study the Sikh religion early on and join the Panth (religious tradition) in need, as Shabeg Singh.
In a recent move against Amritpal Singh, the government issued directives to District Magistrates (DMs) to review arms licenses issued to Amritpal Singh and his eight 'close' aides. The review process can be seen as a step towards cancelling of their arms licenses. On 20 February 2023, the arms license issued to Gurbhej Singh (from Faridkot), a close aid of Amritpal Singh, was cancelled. He was issued a .32-bore revolver license and .315 bore rifle.
Pro-Khalistan activities in Punjab may challenge law enforcement and the state government. Despite the ban imposed on the social media accounts of the SFJ and Amritpal Singh, pro-Khalistan content on numerous platforms, including Twitter, Meta/Facebook-owned Instagram, and Facebook will be a significant source of concern. The use of Khalistan propaganda and attempts to create unrest in Bharat is not a new phenomenon. As Bharat is on the path to becoming a developed nation by 2047, the anti-Bharat elements across the border, mainly Pakistan, do not wish to see Bharat rise.
The outreach to the Sikh diaspora in foreign countries is essential in countering Khalistan propaganda and separatist ideology. The Government of India has made significant diplomatic efforts and sought the international cooperation of foreign governments to extradite key Khalistani leaders to Bharat under the respective extradition treaties. Along with this, Bharat continues to promote Sikh culture and heritage worldwide, which help to counter the separatist ideology of Khalistan. Although Amritpal cannot be called the primary perpetrator of Sudhir's murder or vandalization of the Gurudwaras, the incidents have established his capacity to incite people toward violent extremism.
It is essential for law-enforcement agencies to unearth, monitor, and investigate the funding sources of Amritpal Singh and Waris Punjab De. The action will help in stemming the flow of resources and help in countering the propaganda he is trying to disseminate. If timely action is not taken to counter him, Amritpal Singh may cause severe harm to the peace and harmony and may bring back the dark era of Khalistan extremism in Punjab.
This article first appeared in www.vifindia.org and it belongs to them.