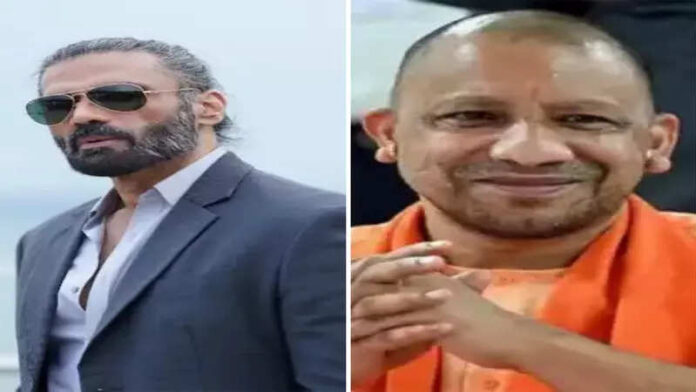 On Thursday, several Bollywood personalities met Uttar Pradesh chief minister Yogi Adityanath during the latter's two-day Mumbai visit. The agenda of the meeting was to discuss possibilities for Bollywood in Noida Film City, based in Gautam Buddha Nagar district in western UP. 
By Swati Goel Sharma
In a video that has gone viral on social media, yesteryear actor Suniel Shetty, whose son Ahan and daughter Athiya are both active in Bollywood, asked Yogi Adityanath's help in saving the industry from the growing negative public perception about it.
Shetty mentioned the 'Boycott Bollywood' hashtags on social media and asked Adityanath to seek Prime Minister Narendra Modi's support in putting an end to those.
'Ninety-nine percent people in Bollywood are good', he said, adding that, "We don't go drugs all day" and "we are associated with good things also".
There are two broad conclusions about the current state of Bollywood one can draw from Shetty's plea.
One, Shetty's plea confirms the theory that the 'Boycott Bollywood' movement – which started online but its effect is spilling onto streets as well – is indeed putting a dent into Bollywood's business, no matter what the industry's biggies say in their politically correct statements or what "independent" researches or voices say.
Two, Bollywood has not learnt anything from the movement.
By asking CM Adityanath to request PM Modi to stop the boycott hashtags, Shetty revealed the collective Bollywood mindset on how the industry plans to tackle the sentiment – by desperately trying to hide the symptoms.
It's clear that many industry biggies continue to remain in denial of the underlying reasons behind the movement, and are ignorant on who is driving it.
Well, the movement is driven by people and the reasons is the Bollywood's problematic content.
As pointed out in this earlier piece, some of the reasons that have led to Bollywood's steep downfall are:
Selective activism over social issues, religious propagation that favours the interests of neighbouring countries and harms India internally, a long legacy of mockery of Hindu beliefs and customs, arrogance on the part of 'stars' almost all of whom are from families with a long legacy in Bollywood, lack of creative talent and hard work, disproportionate reliance on a group of men who take home an exorbitant chunk of the budget, total disconnect between the 'stars' and audience, and evidence of serial plagiarism.
Shetty's statement reveals that Bollywood has still not acknowledged to itself that the sentiment against Bollywood is a people's movement and merely pulling down some hashtags won't solve it.
This denial was earlier seen in actor Arjun Kapoor's statement made in August that the 'boycott Bollywood' was 'allowed' to grow by the silence of Bollywood biggies who were "too decent" to combat it; actor Vijay Deverakonda's statement when he dismissed the movement as being of zero impact; and filmmaker Anurag Kashyap's non-serious comment that he wanted to be 'boycotted' too by the public to be seen in the same league as Aamir Khan and Akshay Kumar.
If Bollywood really comes to terms with the reality, this is what Bollywood personalties should be doing:
-Come down from the high horse and the belief that their world is restricted to VVIPs while the common citizen is so worthless that he should be waving at their bungalows from the streets even if he gets lathi-charged by the police.
-Hold discussions and conversations with social media influencers driving the movement. It's basic. What's instead seen is that while the 'stars' are asking the PM to order people to start loving them (a bizarre ask), their troll army is attacking and abusing the critics on social media.
-It is not an unknown fact that one of the early—and among the major— drivers of the movement is the fan base of actor Sushant Singh Rajput who died mysteriously in June 2020. What is stopping Bollywood biggies from meeting Sushant's family members who continue to demand a high-level probe into his death or apologising to the public for being largely silent after his death if only to win their trust?
-Work out a mechanism to withdraw content that has hurt the sentiments of the majority population and their beliefs. Far from it, it is seen that films released just last year have served highly objectionable content.
This includes Shamshera where the main villain was a Tilak-dhari Hindu and Thank God where Hindus were shamed for going to temples instead of donating the money to poor and the harmless custom of 'murti-puja' derided.
The glaring fact that Bollywood films go out of the way to add songs and scenes glorifying worship of graves in Islamic dargahs and never ask the dargah visitors to donate their offering to the poor, is not lost on the viewers, at least not anymore.
Similarly, at a time when the cases of targetting of Hindu women by men from the Muslim community for conversion or sexual exploitation, in many cases leading to their murder for any resistance, are rising, Bollywood has been repeatedly pushing the narrative that Hindu women are most attracted to Muslim men, who make the best partners.
What is stopping Bollywood biggies from disassociating from such propaganda?
This article first appeared in www.swarajyamag.com and it belongs to them.