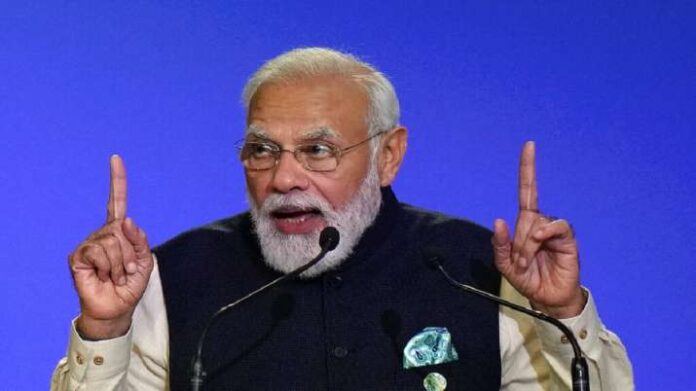 Climate change, for India, is a subject of huge concern as the country of 1.38 billion falls under the category of one of the most vulnerable nations to experience the worsening impacts of a changing climate. It is for this same reason that New Delhi has been quite active in the fight against climate change both at the domestic level as well as international levels. Hence, it came as no surprise as India was seen to be proactive in global climate change negotiations in 2021. And, despite the pandemic hitting the country hard in early 2021, India witnessed a number of progressive developments in the realm of climate change. From important visits to critical announcements, is what shaped the outgoing year as far as climate change is concerned, for India.
By Heena Samant
Significant Developments in 2021
New Delhi very actively engaged itself in climate change talks at both bilateral as well as multilateral levels in 2021. They are discussed below.
Bilateral Engagements
One of the most notable bilateral engagements was with the United States. Mr. John Kerry, Special Presidential Envoy for Climate of the Biden Administration visited New Delhi twice in April and September 2021, during which many important discussions took place in order to enhance cooperation on addressing the climate crisis. Both democracies broadly agreed to cooperate across multiple areas such as mobilizing finance to support clean energy deployment at scale, cooperation on adaptation and resilience, collaborating on innovation and scaling up emerging technologies such as:
a) For energy storage
b) Green hydrogen
c) Clean industrial processes and
d) Sustainable urbanization and agriculture
Based on these discussions, the "India-U.S. climate and clean energy Agenda 2030 partnership" was launched at the 'Leaders Summit on Climate' hosted by the Biden administration in April 2021. As a part of this agenda, 'U.S.-India Climate Action and Finance Mobilization Dialogue' (CAFMD) was launched in the presence of Mr. Kerry and Shri Bhupender Yadav, Minister of Environment, Forest, and Climate Change in September 2021.
Multilateral Engagements
Apart from participating at the Leaders Summit, New Delhi engaged itself at the G20 Climate and Energy Ministerial Meeting which was held in July 2021. The meeting saw reiteration of India's position in its fight against climate change both at domestic as well as international levels. New Delhi did not shy away from mentioning the fact that India has been doing its part to meet the Paris Climate goals at the meeting. There was also an appeal by the leaders of the country for a more justifiable approach towards the fight against climate change by the developed world in order for the developing countries to fulfill their developmental aspirations.
26th Conference of the Parties (COP26)
At COP26, which took place in November 2021, India reached another milestone in its effort to combat climate change. It declared its commitments to achieve net-zero emissions by 2070. This would have huge implications not only for the country but also for the world. The conference also saw additional commitments made by New Delhi to deal with an immeasurable challenge such as climate change. It was also impressive to see that it stuck to the two core principles of 'climate finance' and 'climate justice' on which it bases and forms its policies to tackle climate change. Despite facing criticism for a last-minute intervention made by India to water down language from "phase out" to "phase down" of coal in the Glasgow agreement, the summit proved to be a success from New Delhi's point of view as it managed to put across the concerns of the developing world succinctly. Furthermore, by making some bold commitments, India seemed to have shined and stood out from the rest of the countries participating at the conference, demonstrating its capability to balance both climate change impacts and economic development.
Other Major Announcements
In terms of clean energy transition, New Delhi reached a breakthrough and announced setting up of the National Hydrogen Mission in order to make India self-reliant in energy and become a global hub for green hydrogen production. Another development which grabbed headlines was India's fast pace progression towards electric mobility and 100 percent electrification of Indian railways with a set target of becoming net-zero carbon emitter by 2030.
Way Ahead
Climate change poses one of the biggest threats to humankind and its impact is widely expected to get worse with time. India does acknowledge this fact and has actively engaged itself in the global fight against climate change, traces of which was also seen in 2021. This 'active participation' is what is going to shape India's role in global cooperation in addressing the climate crisis in the coming years. It will continue to be the voice of the developing world on international forums and raise their concerns. Initiatives such as International Solar Alliance (ISA), Coalition for Disaster Resilient Infrastructure (CDRI), LeadIt, and Green Hydrogen Mission, has paved the way for India for more initiatives in the years to come and make it a global superpower in the fight against climate change. New Delhi will continue to talk about climate finance on various bilateral as well as multilateral platforms and stress on a more just environment to tackle an immeasurable issue like climate change. Although the challenges and impacts associated with climate change will get worse, with the current measures put in place, India seems to be on the right track to become more resilient. Overall, in the years to come India will have a prominent role to play in global fight against climate change.
This article first appeared in www.vifindia.org and it belongs to them.