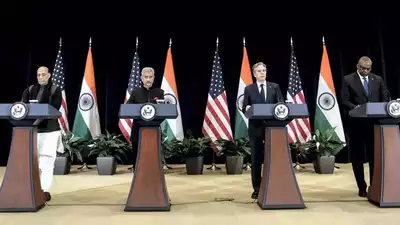 Russia's special military operation in Ukraine evoked almost immediately world-wide condemnation. Russia's actions were condemned at the UN Security Council and General Assembly. In view of India's special ties with Russia, India abstained from such US-sponsored resolutions. In the latest measures against when the UN General Assembly passed a resolution to suspend Russia from the UN Human Rights Council India again abstained. The resolution was adopted revoking Russia's membership with 98 countries voting in favour and 24 against. 58 countries abstained.
By Prof Rajaram Panda
Interestingly, China voted in Moscow's support. Russia became the first P-5 country to be suspended from any UN body and also the only one, apart from Libya in 2011, to be removed from the 47-member top human rights body. So far, India has abstained 10 times in 10 votes on Ukraine. Russia warned that any abstention would be seen as an unfriendly gesture and hurt bilateral ties.
The developments in Ukraine have presented India with critical foreign policy challenge. There are two views coming from different quarters. One is India should adhere to its old committed policy of neutrality without taking any side but argue for peace through diplomatic dialogue and consultations. The other argues that India needs to review its position in foreign policy in the wake of new geopolitical developments and craft its policies accordingly. Both have merits and demerits as well.
The most important aspect of this development is that India has hogged the limelight of the international community as many countries take seriously India's nuanced position on global affairs. Their efforts have been to seek India's cooperation and expect India to see the world from the prism of their worldview. Indian political leaders since the post-independence period have prioritised the country's foreign policy based on its national interests and on the principles of strategic autonomy. The question that begs an answer is that will such a policy stance remain sustainable in the changed geopolitical settings, evidently it deserves scrutiny?
There has been a flurry of visits by top political leaders from many countries to India seeking India's support and it has been a challenge for India's leaders to explain India's position as the leaders visiting India realise that India's voice on global issues carries weight. The first leader of an important country to visit India post-Ukraine development was Prime Minister of Japan Fumio Kishida on 19-20 March. A day after Prime Minister Modi had a detailed discussion virtually with his Australian counterpart Scott Morisson. Besides bilateral issues and agreements on enhancing bilateral issues on other areas, the Ukraine issue figured prominently in the talks.
Even China which is seen to be taking advantage of the Ukraine saga to further its own aggrandizement and grabbing other countries' territories dispatched its Foreign Minister and State Councillor Wang Yi. He met with his Indian counterpart S. Jaishankar and National Security Advisor Ajit Doval. Seemingly Wang Yi was in New Delhi to prepare for the BRIC summit to be hosted by China later this year but that he was keen to discuss the Ukraine could not be missed.
Indeed, it is a big responsibility for the Indian diplomacy. India is suddenly confronted with the widest set of options for such contingencies. This could mean acquisition of defence capabilities and other supportive measures or securing the understanding for India's policies and actions from the international community.
The West, particularly the NATO countries, is heavily dependent on Russian energy. If all the NATO countries join the US-led sanction bandwagon, it would hurt their own economies more than Russia's interests. Developing alternative energy sources and sourcing from other countries take time and heavy investment. So stopping imports completely from Russia by some of the NATO countries is not an option. Such a situation could dent US sanction efforts. Moreover Russia is not a small country; it has the capacity and means to sustain itself and therefore sanctions would not bite much.
The US is not giving up easily in taking India on board. The US dispatched its deputy national security advisor Daleep Singh who warned India of 'consequences'. The US does not want to see "rapid acceleration" of India's imports from Russia of energy and other commodities prohibited by global sanctions regimes. Singh cautioned India that there will be consequences for countries that attempt to circumvent the embargoes. Singh is seen as the architect of American sanctions targeting Russian President Vladimir Putin and his inner circle and the Russian financial system. He cautioned India against expecting Russia to come to the country's defence if China takes advantage of the thaw in its ties with Russia and decides to violate the Line of Actual Control. If assessed dispassionately, one gets the impression that Singh needs to be educated on the way India's foreign policy is crafted. No wonder, his visit was a waste of time as his threat of "consequences" was dismissed by India with disdain.
Objectively viewed, India does not need another country's unsolicited advice and knows well how to defend and protect its sovereignty and territorial boundaries. India of 1962 is not what it is today and is capable to fight its own battle even without external support. Moreover, there are several middle powers that would willingly come to India's support if needed. Japan, Australia, South Korea and the ASEAN countries shall inevitably come to India's support in such an eventuality. Even British Prime Minister Boris Johnson, the latest leader on Indian soil, was satisfied with India's clarification and prioritised other issues such as FTA and defence cooperation for discussion.
Why was Japan miffed with India's stance?
Regrettably, Japan's right-wing newspaper was scathing in saying that India shirked its democratic obligations by abstaining from the UN vote against Russia's "invasion" of Ukraine. It argued that India "must break free from its 'Non-Aligned' mindset". By expressing such an opinion, Tomoo Iwata, the chief editor of Sanket Shimbun was unfair and showed deficiency in his understanding history of India's foreign policy, the foundation of which is based on certain principles and values. It needs to be recognised that India's democratic credentials are strong and commands respect around the world, which is why many foreign leaders, beginning with Fumio Kishida of Japan, visited India to speak with the Indian leaders and understand the reasons behind India's principled stance. Iwata's observations somewhat could be compared with the way Japan overreacted when India detonated a nuclear device in 1998. Japan was harsh and thus the reaction was unwanted. Along with Japan, the US and Australia, India is a member of the Quad, whose agenda is much larger than Russia-Ukraine crisis. Ventilating such critical opinion on India's stance could sow the seed for fissure in the Quad grouping. That was best avoidable.
The world needs to recognise the fact that Russia remains India's time-tested friend. Besides being an important security partner of India, it is a major source of arms procurement. The US argues that India's military built on Russian weapons does not have a future because of sanctions imposed on Russia. However, despite the US opposition and cajoling, India went ahead in October 2018 in signing a $5 billion deal with Russia to buy five units of the S-400 Triumf air defence missile systems to ramp up its air defence despite that then the Trump administration warned of sanctions if India went ahead with the contract. Not only India went ahead but also decided not to put all its eggs in one basket by diversifying arms procurements from France, the US, Israel and others. This frustrates the US.
To go back to the point being made, the world knows the circumstance in which India signed the Treaty of Peace, Friendship and Cooperation in 1971. That time, Russia came to India's support in its liberation effort of Bangladesh when the US was backing Pakistan. To cut the long argument short, India's foreign policy is based on what it perceive are its national interests and that shall remain unchanged irrespective of change in the government. That policy has remained consistent since India gained its independence. It does not behove of a person holding the position of editor of an influential newspaper in a friendly country to write that India is "adamant about maintaining good relations with the militarily powerful as a means of countering the threat from China". This reflects ignorance of the strategic reality that nations face while conducting foreign relations. The media needs to be a bit more responsible as its views shape public opinion of the country and the damage could be huge for negative reporting.
Interestingly, the same paper observed in an editorial that India's involvement is vital to deter a China bent on emulating Russia by using force to change the status quo in the East Sea and South China Sea.  It needs to be noted that besides being a major source of arms procurement, Russia also supplies its oil, though India's imports is less than 1 per cent of its total imports in month's imports compared to the West's one afternoon imports. Therefore, if Russia offers to sell its oil at a discount, the West need not be unduly perturbed about it. Moreover, some of the NATO countries cannot do without Russian oil and energy imports despite sanctions already imposed. So, issuing sermons that purchases of Russian oil are "not in India's interest" do not cut ice. India does not need assistance of the West in diversifying its energy procurement as it is capable of keeping its house in order. The example of its dealing with Iran when the West imposed sanctions over the nuclear issue is a case in point.
Quad Summit in May
Japan is likely to host the much-awaited Quad summit on 24 May. The Australian general election is scheduled to be held on 21 May and if the outcome emerges to be unfavourable to incumbent Prime Minister Scott Morrison, there could be a rethink. Australia has not yet confirmed the date because of the election. If Morrison's political opponent from the Labour Party Anthony Albanese wins and unseats Morrison, the dates for the Quad summit might be revised.
Since US President Joe Biden in his talks with Prime Minister Modi firmly committed on convergence in the Indo-Pacific and making the grouping a powerful instrument of law-abiding democratic countries, the Quad summit is likely to be on track. With regard to the human rights issue, India's External Foreign Minister rebutted to the US mention of human rights issue in India saying that India too has concerns over human rights issue in the US. It transpires that the Quad members shall have an opportunity to understand each others' perspectives and how each country views its foreign policy based on the national interests.
Though the Ukraine issue shall be discussed, the issue of a shared agenda and vision for the Indo-Pacific and beyond also shall be on the table. After all, Quad has changed gears and moved on to vaccine support, emerging and critical challenges, counter-terrorism and counter-radicalisation, and building resilient and trusted supply chains not dependent on one country. It is hoped that the world understands India's position on the Russia-Ukraine conflict and misunderstandings, if any, are removed.
This article first appeared in www.vifindia.org and it belongs to them.