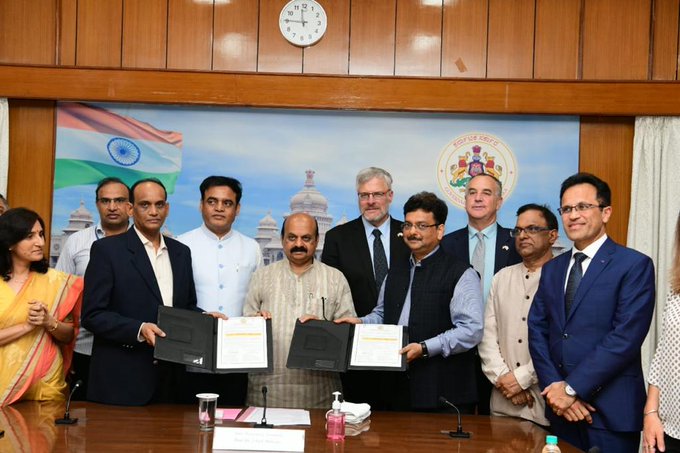 International semiconductor consortium ISMC announced today (May 1) that it will invest $3 billion (around Rs 23,000 crore) in Karnataka to set up a chip-making plant. ISMC Digital Fab, one of the three applicants for the Union Government's $10-billion incentives for semiconductor manufacturing, has signed an agreement with the Karnataka government for setting up India's first and largest semiconductor fabrication unit.
By Swarajya Staff
Additional Chief Secretary in the department of IT, BT Dr E V Ramana Reddy and Director of ISMC Ajay Jalan signed an memorandum of understanding in the presence of Chief Minister Basavaraj Bommai.
Welcoming the agreement the CM Bommai said, "This MoU is a significant agreement amid the competition among various states to attract semiconductor fabs. Karnataka understands that it's not just the fiscal incentives that matter but availability of conducive ecosystem and overall ease in operations are also important."
ISMC said that it will set up a 65 nm Analog Fab in technology partnership with Israel-based Tower semiconductors.
ISMC said that the semiconductor fabrication unit is expected to generate more than 1,500 direct jobs and 10,000 indirect jobs.
ISMC has sought 150 acres of land in Kochanahalli Industrial Area in Mysuru District.
In Sep 2020, the government of Karnataka, in a bid to provide a further fillip for Electronic System Design and Manufacturing (ESDM) sector, announced a slew of incentives. The incentives announced include 25% subsidy on land only in areas other than Bengaluru Urban and Bengaluru Rural districts and 20% subsidy on plant & machinery.
Karnataka is home to more than 300 units export oriented manufacturing units. It is the largest chip design hub in India, consisting of 85 fabless chip design houses and is the leading producer of aerospace and defence equipment in India.
Karnataka's contribution to national share stands at ~50% in electronic product companies and 40% in electronic design. Karnataka has immense Companies like Qualcomm, Seimens, Wistron, Samsung, AT&S, AMD, NVIDIA, Intel, Cisco are a part of Karnataka's ESDM ecosystem.
The government of Karnataka had identified 2 prominent land parcels namely Kochanahalli Industrial Area in Mysuru District and Kotur – Belur Industrial Area in Dharwad District for setting up of Electronics Manufacturing Cluster.
Situated at a distance of 146km from Bengaluru, Mysuru has significant presence of companies involved in Assembly Testing Marking and Packaging (ATMP) of semiconductors. Among the prominent companies in semiconductor-related business including AT&S, Kaynes etc.
Mysuru district has a state-of-the-art ISO 17025 2017 NABL accredited testing and certifying facility, "Lahiri", which provides testing, quality & regulatory needs of the regional electronic industry.
The government of Karnataka is in the process of expanding the industrial area in Kochanahalli, which is located close to the upcoming Container Corporation of India (CONCOR) at Kadakola .
Kochanahalli is approximately 5 kms from Mysuru Airport and is bound by industrial areas like Kadakola, Adakanhalli, Thandya and Immavu which already house leading industries from various verticals.
PM Narendra Modi's NDA government has unveiled several measures to make India a hub of electronics manufacturing and build a semiconductor ecosystem in India.
In order to increase the domestic production of electronics and propel the growth of the ESDM industry, the Union Cabinet approved the National Electronics Policy in 2019 ("NPE 2019"). NPE EoI inviting firms to be the Anchor Units in EMC's of Karnataka under EMC 2.0 Scheme of Government of India 2019 aims to encourage domestic manufacturing and exports in the ESDM value chain to achieve economic development and a turnover of USD 400 billion by 2025. NPE also aims to increase exports to 60% of domestic production.
In Apr 2020, the government of India notified the Production Linked Incentive Scheme (PLI) for Large Scale Electronics Manufacturing.
PLI for Large Scale Electronics Manufacturing offers a production linked incentive to boost domestic manufacturing and attract large investments in mobile phone manufacturing and specified electronic components, including Assembly, Testing, Marking and Packaging (ATMP) units.
At the same time, the Government of India also notified The Scheme for Promotion of Manufacturing of Electronic Components and Semiconductors (SPECS) with an objective to provide financial assistance on capital expenditure for the identified list of electronic goods that comprise downstream value chain of electronic products, i.e., electronic components, semiconductor/ display fabrication units, ATMP units, specialized subassemblies and capital goods for manufacture of aforesaid goods, all of which involve high value added manufacturing.
This article first appeared in www.swarajyamag.com and it belongs to them.